October 31, 2013
Press Release: Remaking Cities Congress Drafts New Agenda for Post-Industrial Cities
Equity Seen as Most Important Priority for Remaking Cities
Contacts: Pam Wigley / 412-268-1047 / pwigley@andrew.cmu.edu
Olivia Wells / 412-268-9553 / ocwells@andrew.cmu.edu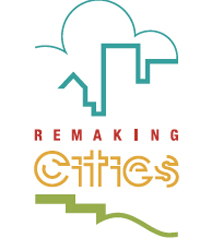 PITTSBURGH—The international Remaking Cities Congress of more than 300 leading urbanists from North America and Europe convened in Pittsburgh in mid-October to draft a blueprint to guide the development and future of post-industrial cities. They came up with four themes and 27 propositions.
Don Carter, co-chair of the Congress and director of the Remaking Cities Institute at Carnegie Mellon, said the four common themes were: sustainability; wise allocation of resources; equity; and public engagement. Of those, he said, equity — in all its manifestations: social, economic and environmental — emerged as the overriding theme.
"All delegates agreed that without equity, we cannot move forward to successfully build better environments, no matter the continent on which you reside," Carter said.
Hosted by CMU's Remaking Cities Institute and The American Institute of Architects, delegates of the Congress heard from leading thinkers in urbanism and toured Pittsburgh to experience firsthand its transformation from a heavy manufacturing economy to a knowledge economy. Ten case studies were presented in pairs, matching one European city with one North American city: Bilbao and Milwaukee; Ruhr Valley and Buffalo; Manchester/Liverpool and Toronto/Hamilton; Rotterdam and New Orleans; and Turin and Detroit. A special presentation featured "The Pittsburgh Story."
The goal of the Congress was to develop a new agenda for post-industrial cities. Workshops focused on five areas: repositioning the city in the global economy; the physical city; the city as an innovation hub; urban systems and infrastructure; and planning and social innovation.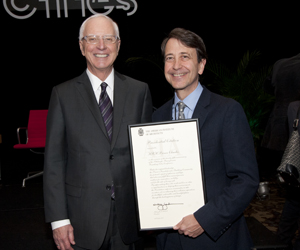 In the final session of the Congress, the delegates voted on the strength of the 27 propositions that came out of the workshops. Propositions included:
Confront racism and marginalization to create cities with liberty and justice for all;
Use education as an economic development strategy, cultivating the talents of every city's residents;
Provide financial incentives for reusing existing land, buildings and blighted neighborhoods; and
Develop adaptive and flexible housing to accommodate multiple life stages of the residents that live there through the years.
      The conference featured a pre-recorded keynote address by the honorary chair, His Royal Highness, The Prince of Wales, who chaired the first Remaking Cities Conference in Pittsburgh 25 years ago. In his address, Prince Charles noted that he has a personal reason for creating better living environments for future generations — the birth of his first grandson, Prince George.

"I've been fortunate to become a grandfather this year, and this happy event has only reinforced my determination to do all I can to avoid handing our generation's problems on to our grandchildren," said Prince Charles, who has been a champion of rejuvenating post-industrial cities throughout England, Wales and Scotland.
Conference presentations will be available on YouTube and the Remaking Cities Congress website, www.remakingcitiescongress.org.  Prince Charles' keynote address is at: http://www.youtube.com/watch?v=YQn04bcsQGI&feature=youtu.be
An academic press will publish a post-Congress book in 2014 featuring a chapter on each of the case study cities, including Pittsburgh, as well as 10 thought leader papers and proceedings from the Congress, including the 27 propositions voted on at the concluding session. The organizers are planning follow-up meetings in Europe and North America in 2014 and 2015.
In addition to Prince Charles, plenary speakers at the Congress included Bruce Katz (Brookings Institution), Angela Glover Blackwell (PolicyLink), Rip Rapson (The Kresge Foundation), Corrine Hermant de Callatay (European Commission), Rob de Vos (Consul General of the Netherlands), George Ferguson (Mayor of Bristol, England) and Richard Florida (author of "Rise of the Creative Class").
###
Above, Don Carter (left), Remaking Cities Congress co-chair and director of the Remaking Cities Institute at Carnegie Mellon, poses with Hank Dittmar, special adviser to HRH The Prince of Wales for Global Urbanization. Dittmar accepted The American Institute of Architects President's Award on behalf of Prince Charles.