October 24, 2013
Press Release: Carnegie Mellon's Marija Ilic Awarded $1.2 Million NIST Grant For Innovative Smart Grid Research and More Secure Cyber-Physical Systems
Research Award Recognizes Importance of Streamlining Power Grid
Contact: Chriss Swaney / 412-268-5776 / swaney@andrew.cmu.edu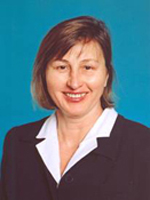 PITTSBURGH—A sweltering summer in 2013 put a crippling load on utilities struggling to avoid power outages and better manage increased consumer demand to fuel air conditioning systems. Last year alone, the U.S. wasted energy through a variety of inefficiencies, and wind power became a challenge to deliver to customers as it became available.
But Carnegie Mellon's Marija Ilic is leading a multidisciplinary research team to show that with careful design of IT-enabled, data-driven protocols and the introduction of more interactive binding protocols between traditional utilities and new technologies  — intermittent power and responsive demand, in particular — it's possible to provide electric power reliably and efficiently.
Ilic calls the newly evolving cyber-physical energy systems intelligent Dynamic Monitoring and Decision Systems (iDyMonDS), and she's using a three-year, $1.2 million grant from the National Institute of Standards (NIST) to develop a one-stop shop to demonstrate and test this framework, and to show how it can be used to design more efficient and reliable smart grid technology.
Ilic, a professor of electrical and computer engineering (ECE) and engineering and public policy, said this "smart grid in a room" will be a test bed to see how cyber-physical systems interact with utilities. NIST, which is not a regulatory agency, helps private groups agree on voluntary standards and guidelines.
"This hybrid setup has the potential to realistically mimic a large electric energy system with data collected from real-world instrumentation that would ultimately be able to help determine the value of new technologies and their impact on the quality and cost of electricity services, sustainability and potential for reducing pollution," said Ilic, head of the Electric Energy Systems Group (EESG).
Ilic said her team will use this laboratory-level smart grid facility to guide the design and adoption of iDyMonDS-based protocols as the next generation utility Supervisory Control and Data Acquisition (SCADA) cyber-physical electric energy system architecture.
"The modular interactive approach we will be using is clearly the best method to design microgrid hardware facilities by interconnecting existing modules and providing them with the right embedded intelligence and information exchange with the others," Ilic said.
Steven R. Ray, a team member and distinguished research fellow at CMU-Silicon Valley, emphasized the importance of this research for helping develop standards for the electricity sector. "Our research is critical for helping to improve power grid efficiency and security," said Ray, formerly with the NIST.
Already, Ilic and about a dozen EESG researchers and collaborators in Portugal have developed a real-world database for electric power grids of Flores and San Miguel, two of nine volcanic islands that sit in the middle of the North Atlantic some 900 miles west of Lisbon. Using this database, the team modeled and assessed the potential of residential and commercial electricity users to participate in a load management program needed to make the most out of inexpensive, clean wind energy.
The team also simulated new automation concepts for ensuring reliable and stable electric power service using electric vehicles and fast storage, such as flywheels, and evaluated their possible benefits. They demonstrated that fast automation could ensure stable operations of the power grid when there are large wind gusts that are hard to predict.
Ilic pointed out that many other ongoing CMU experiments related to the smart grid could be linked with the new simulator.
Other CMU faculty working on Ilic's team include: Franz Franchetti, associate professor of ECE; Soummya Kar, an assistant research professor of ECE; Jose M. F. Moura, director of the CMU/Portugal program and a University Professor of ECE and Biomedical Engineering; and Jovan Ilic, a scientific specialist and adjunct faculty in ECE. 
                                                                                          

###

Marija Ilic (pictured above), a professor of electrical and computer engineering and engineering and public policy, is leading a multidisciplinary research team to show that with careful design of IT-enabled, data-driven protocols, it's possible to provide electric power reliably and efficiently.