October 01, 2013
News Brief: Keynote Address, Mural Spread Messages of Peace, Nonviolence at Carnegie Mellon
Contact: Abby Simmons / 412-268-4290 / abbysimmons@cmu.edu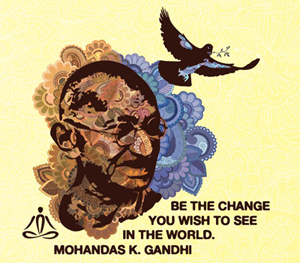 PITTSBURGH—Carnegie Mellon University's Two Weeks of Peace and Gandhi's birthday celebrations conclude this week with a keynote address from critic, activist and author Elin O'Hara Slavick and the student-led creation of a mural in Pittsburgh's Squirrel Hill neighborhood.

Keynote Address

Slavick, a distinguished professor of visual art, theory and practice at the University of North Carolina at Chapel Hill, will deliver Carnegie Mellon's Two Weeks of Peace keynote lecture Friday, Oct. 4. in the University Center's Connan Room. A reception and signing of her new book, "After Hiroshima," will begin at 4:30 p.m., followed by a lecture and discussion at 5 p.m.

"After Hiroshima" presents photographic images of Hiroshima, Japan, to visually, poetically and historically address the magnitude of what disappeared as a result of, and what remains after, the dropping of the atomic bomb in 1945.

Slavick has exhibited her work internationally, including at the former Bank of Japan in Hiroshima in 2011. She also is the author of "Bomb After Bomb: A Violent Cartography," published in 2007. For more about Slavick's work, go to http://www.elinoharaslavick.com/.

The event is presented in partnership with Remembering Hiroshima, Imagining Peace, a Pittsburgh-based alliance of labor, peace, educational, environmental and cultural organizations working to end nuclear war. Lecture sponsors include CMU's University Lecture Series and Division of Student Affairs.

Mural

Om, a CMU student organization for Hindu spirituality and culture, and the Moving the Lives of Kids Community Mural Project (MLK Mural) will paint an outdoor mural in honor of Mohandas Gandhi from 10:30 a.m. to 6 p.m., Sunday, Oct. 6, on the wall of Coriander, located at 2201 Murray Ave. in Squirrel Hill. Coriander is a restaurant specializing in Indian cuisine.
School of Art senior Adelaide Cole designed the mural. Members of the Pittsburgh community, regardless of their artistic skills, are invited to join the CMU students and MLK Mural volunteers in this effort.

###
Pictured above is the outdoor mural that CMU students and volunteers will paint in Squirrel Hill on Sunday, Oct. 6.