October 17, 2013
Press Release: Carnegie Mellon's Richard Purcell Uncovers How Covert Government Funds Influenced Ralph Ellison, Race and American Cold War Culture
Contact: Shilo Rea / 412-268-6094 / shilo@cmu.edu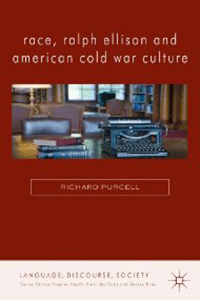 PITTSBURGH—When most people think of Ralph Ellison, they think of his novel "Invisible Man," which won the National Book Award in 1953 and is still heralded as one of the most important novels of the 20th century. Inspired by the works of Fyodor Dostoyevsky and Louis Armstrong, Ellison wrote "Invisible Man" from the perspective of a young, nameless narrator coming to political and racial consciousness during the 1930s.
A new book by Carnegie Mellon University's Richard Purcell reveals another side of Ellison, a writer — like others during the Cold War — who was supported by covert government funds to function as a literary ambassador at home and abroad.
"Race, Ralph Ellison and American Cold War Culture" looks at the period following World War II when writers and literary critics — both black and white — debated how African-Americans were represented in literature, which was referred to as the "Negro Problem." As the Cold War unfolded, many of the debates began to appear in journals, conferences and other events that were directly funded by U.S. and British intelligence agencies. Purcell, associate professor of English in the Dietrich College of Humanities and Social Sciences, used never before published materials from Ellison's papers at the Library of Congress to fully understand the acclaimed literary figure's thinking of the Negro Problem within the shadow of governmental influence.
"Many critics gloss over or downplay this aspect of Ralph Ellison's career," Purcell said. "It's an example of the political usages of literary culture. Ellison's work gives us the opportunity to tell a story about race and racism during the Cold War that is complicated and messy."
Ellison joined the American Committee for Cultural Freedom — an organization that received funds from the Central Intelligence Agency — and participated in a Salzburg Seminar in American Studies, which received State Department funding. Through these and other events, Ellison introduced or repackaged American culture for foreign and domestic audiences.
"The government funded American writers who were not necessarily America's cheerleaders. The thought was, 'At least they're not communist,'" Purcell explained.
While the book explores how the Cold War's ideological conflicts swayed literary discussions, Purcell also exposes the important role race and African-American writers and intellectuals played.
"This gives a different view of the Civil Rights Movement and racial segregation," Purcell said. "Our government was directly and indirectly funding writers and other artists who knew that America was not a truly democratic country.  Yet, in the case of Ellison at least, they also saw that the promise of a truly democratic United States was already realized in its arts."
Palgrave Macmillan published "Race, Ralph Ellison and American Cold War Culture." For more information, visit http://www.amazon.com/Ellison-American-Culture-Language-Discourse/dp/0230321437.
###
Pictured above, a new book by Carnegie Mellon's Richard Purcell examines the period following World War II when Ralph Ellison and other writers were supported by covert government funds to function as literary ambassadors at home and abroad.