October 10, 2013
Press Release: Oracle Security Chief Is Keynote Speaker at Carnegie Mellon's OurCS Conference
Workshop Encourages Women To Pursue Graduate Study in Computer Science
Contact: Byron Spice / 412-268-9068 / bspice@cs.cmu.edu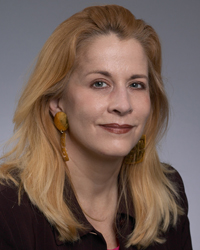 PITTSBURGH—Mary Ann Davidson, chief security officer of Oracle Corp., will advise undergraduate women on "Embracing Your Inner Geek" as a keynote speaker for the OurCS Conference, a women's workshop at Carnegie Mellon University that promotes graduate study in computer science.
Seventy-eight undergraduate women from 24 states and Puerto Rico, as well as Canada, Israel, Qatar and India, are slated to attend the event Oct. 18-20. The workshop gives students a chance to get acquainted with leading faculty and researchers, work on problem-solving teams led by experienced researchers and learn firsthand about the graduate school experience from graduate students.
Davidson, who has been named one of Information Security's top five "Women of Vision," is a Federal 100 award recipient from Federal Computer Week, and was recently named to the Information Systems Security Association Hall of Fame. She has testified on cybersecurity to several committees of the U.S. House of Representatives and to the U.S. Senate Committee on Commerce, Science and Technology.
OurCS speakers include Manuela Veloso, CMU professor of computer science, who will present the workshop's other keynote, "Autonomous Robots Interacting with Humans and the Web." A panel discussion on academic and industrial research will include Lenore Blum, CMU professor of computer science and director of Project Olympus; Caroline Hayes, chair of the Department of Mechanical Engineering at Iowa State University; Ari Font Llitjós, user experience lead at IBM Vivisimo; and Angela Kennedy, president of Carnegie Speech International.
The importance of computation's role in the sciences in general and in society at large is growing and computer scientists are both well paid and in steady demand by employers. Yet U.S. enrollments in computer science programs have lagged, particularly among women. OurCS is designed to help undergraduates gain a deeper understanding of the challenges and rewards of computer science research.
Carnegie Mellon's School of Computer Science and its Women@SCS professional organization have been leaders in promoting diversity in computer science. About 26 percent of the school's undergraduates and graduate students are women, and women comprise 35 percent of this fall's freshman class.
Major funding for OurCS was provided by Oracle. Other sponsors are Lockheed Martin and a number of CMU entities, including Carnegie Mellon Qatar, the Human-Computer Interaction Institute, the Institute for Software Research, the Language Technologies Institute, the Machine Learning Department, the Robotics Institute and the Microsoft Research-CMU Center for Computational Thinking.
Follow the School of Computer Science on Twitter @SCSatCMU.

###
Mary Ann Davidson, pictured above, will discuss "Embracing Your Inner Geek" at CMU's women's workshop promoting graduate study in computer science, Oct. 18-20. Davidsion has been named one of Information Security's top five "Women of Vision."