November 05, 2013
Press Release: Carnegie Mellon Information Networking Institute Student Receives Scholarship From (ISC)² Foundation
CMU Recognizes Importance of Training Future Cybersecurity Leaders
Contact: Chriss Swaney / 412-268-5776 / swaney@andrew.cmu.edu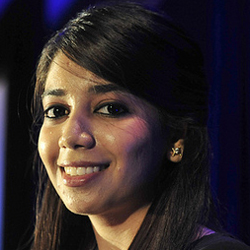 PITTSBURGH—As the 10th anniversary of National Cybersecurity Awareness continues to rally support, Carnegie Mellon University celebrates Pratibha Anjali Dohare, a recipient of a cybersecurity scholarship from the prestigious International Information Systems Security Certification Consortium (ISC)² Foundation.
Dohare was recently awarded a $40,000 scholarship from the (ISC)² Foundation to help support her studies in the Masters of Science in Information Technology-Information Security Program at CMU's Information Networking Institute (INI).
"I intend to utilize this scholarship in enhancing my knowledge in the field of cybersecurity and forensics during my studies at CMU's INI, with an aim to merge the processes of prevention and investigation through development of an intrusion prevention and detection system," said Dohare of Bhopal, India. "Cybersecurity is more than one individual step — it is a process built upon a cycle of key attributes: learning, monitoring, analyzing, deciding and responding — before the whole cycle of learning begins again."
Dohare pointed out that given the increased reliance on interconnected systems for societal and economic benefits, cyber attacks are going to become more frequent, and costly in the damage they inflict on governments, especially on the governments of developing nations.
And because young adults today are comfortable with using social media, experts report that there is a tendency for them to ignore warning signs about unsafe websites and practices. These reports also warn that women lag behind male counterparts by more than 30 percent when it comes to seeking careers in cybersecurity
"Each year, the (ISC)² Foundation grants special women across the globe scholarships, giving them unique opportunities to pursue studies and careers in cybersecurity they might not otherwise have," said Julie Peeler, director of the (ISC)² Foundation, the largest not-for-profit body of certified information and software security professionals worldwide. "These women epitomize the kind of passion, dedication and skill we desperately need in information security today. We're thrilled to support these outstanding women, who will undoubtedly have an impact on the role and influence of women in information security."
Scholarship applicants must have completed at least the first year of an undergraduate degree program by August of the calendar year in which scholarship funding will commence, and be academically eligible to continue at their educational institution in pursuit of their degree.
"At CMU and the INI, Pratibha's opportunities will be endless. I applaud the (ISC)² Foundation for recognizing her talent and opening the door to her career ambitions," said Dena Haritos Tsamitis,  head of the INI and head of education, training and outreach at CMU CyLab, one of the largest university-based research centers for cybersecurity studies in the U.S.                                

###
Pratibha Anjali Dohare, pictured above, says she plans to use the scholarship to enhance her knowledge in cybersecurity and forensics.