November 26, 2013
News Brief: Carnegie Mellon's Kathryn Roeder Helps Identify Clues to the Origin of Autism
Contact: Shilo Rea / 412-268-6094 / shilo@cmu.edu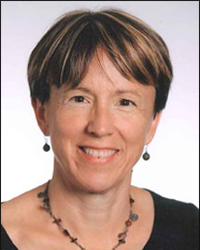 PITTSBURGH—Finding major new clues to the origins of autism, researchers have pinpointed which cell types and regions of the developing human brain are affected by gene mutations linked to autism.
The results, reported in the Nov. 21 issue of the journal "Cell," identify common neural circuits affected by autism-risk genes and when, where, and in what cell types those genes exert their effects on the developing human brain and lead to autism spectrum disorders.
To address this question, Carnegie Mellon University's Kathryn Roeder, professor of statistics and a world-renowned expert on statistical genomics and the genetic base of complex disease with an emphasis on autism, looked for unusual clustering of a targeted list of autism genes in a map of the brain. The map was determined by BrainSpan, a digital atlas of where genes are expressed in the human brain over the lifespan.
"Identifying unusual clustering is largely a statistical problem," Roeder said. "Based on large-scale gene sequencing projects, scientists have begun to identify a number of genes that play a role in risk for autism. It is now obvious that a very large number of genes could be involved.  The next step is to decipher how such a large number of genes might converge to exert their effects in the developing brain. If this myriad of genes acts through a small number of underlying biological mechanisms it will advance the development of personalized and targeted therapies."
Roeder added, "Given the small number of autism genes known, I found it remarkable that we could successfully pinpoint cell type and brain region affected by these gene mutations."
To read more about this study, which was led by Yale University, visit http://news.yale.edu/2013/11/21/follow-genes-yale-team-finds-clues-origin-autism.
###