November 25, 2013
News Brief: Carnegie Mellon Home To Two New AAAS Fellows
Contact: Abby Simmons / 412-268-4290 / abbysimmons@cmu.edu
Jay Apt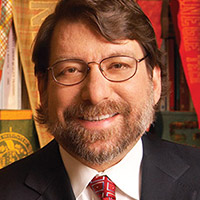 Mark Kamlet
Carnegie Mellon University's Mark S. Kamlet and Jay Apt have been named American Association for the Advancement of Science (AAAS) Fellows. Fellows are elected by their peers in recognition of the recipients' distinguished efforts to advance science or its applications.
Kamlet is being honored for his "distinguished contributions to the economic analysis of health interventions, budgetary policy analysis and as provost of CMU."
In addition to his role as the university's provost and executive vice president, Kamlet is a professor of economics and public policy with joint appointments in the H. John Heinz III College and in the Department of Social and Decision Sciences in the Dietrich College of Humanities and Social Sciences.
Apt is being cited for his "distinguished contributions to observation of Earth from space, and to building a cleaner and more efficient energy future."
Apt is a professor in the Tepper School of Business with an affiliated faculty appointment in the College of Engineering's Engineering and Public Policy Department. He also is director of the Carnegie Mellon Electricity Industry Center. A former NASA astronaut, Apt flew four missions aboard the U.S. Space Shuttles Atlantis and Endeavour.
The 2013 class of 388 fellows will be recognized during the AAAS Fellows Forum held on Feb. 15 at the 2014 AAAS Annual Meeting in Chicago.
###