November 20, 2013
Press Release: Carnegie Mellon Partners with Steiner Studios and NYC To Create Integrative Media Program
Contact:
Ken Walters / 412-268-1151 /
walters1@andrew.cmu.edu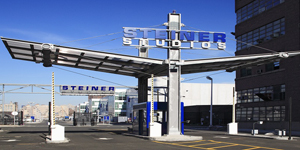 PITTSBURGH—Carnegie Mellon University has reached an agreement with Steiner Studios and New York City to create an Integrative Media Program at Steiner Studios at the Brooklyn Navy Yard, a city-owned industrial park in the waterfront Wallabout neighborhood.
The master's degree program, announced in Brooklyn by Carnegie Mellon Provost and Executive Vice President Mark Kamlet, NYC Mayor Michael Bloomberg and Steiner Studios Chairman Doug Steiner, will be a part of NYC's Applied Sciences initiative to strengthen and transform the city's economy. Also attending the announcement from CMU were Vice Provost for Design, Arts and Technology
Thanassis Rikakis
and College of Fine Arts Dean Dan Martin.
Carnegie Mellon President Subra Suresh was unable to attend, but personally phoned Mayor Bloomberg this morning to express his support for the partnership and program.
CMU's Integrative Media Program (CMU-IMP) will be the initiative's first applied sciences program to provide students with hands-on training in creative commercial working environments alongside professionals in the field. Students will work in industries integrating technology and the arts, with a focus on applications in film, games, social media, big data, interactive computing, performing and visual arts, integrative innovation in products and services, and urban design.
"We believe New York City will be the perfect setting for CMU to provide education in these technology-based modes of expression and production — social media, games, special effects, responsive environments, product design and manufacturing, just to name a few of the areas where we will be working together," Kamlet said. "Along with Carnegie Mellon's new Simon Initiative in effective technology-enhanced learning, there will be unprecedented opportunities to crystallize new thinking by faculty and students in this area, and design technology to support human creativity, improved learning, and more diverse social interactions on a global scale." 
The program is expected to launch in August 2015 in a 16,000 square-foot facility at 25 Washington Avenue, a historic seven-story building recently renovated to include soundstages, photo studios, post-production spaces and academic facilities. In addition, to this site, the program also will use Stage 12 of Steiner Studios, a soundstage actively used by dozens of television and movie productions each year.  Under Rikakis, the program will require students to begin study on the Pittsburgh campus before studying in Brooklyn. About 40 students and 10 visiting students are expected to enroll annually at the Brooklyn facility.
Steiner Studios, a division of Steiner Equities Group, opened at the Brooklyn Navy Yard in 2004 as New York's first Hollywood-style film and television production facility and has grown to more than 580,000 square feet on 26 acres, the largest U.S. film and television production studio complex on the east coast. The lot is currently home to HBO's "Boardwalk Empire," Fox's "The Following" and Warner Bros.' "The Carrie Diaries." Past feature films filmed on the site include "Sex & the City," "Inside Man," "Burn After Reading," "Enchanted," "American Gangster" and "The Adjustment Bureau."
###