May 06, 2013
Press Release: Carnegie Mellon Art Professor Leads Fourth International Space Arts Workshop
Arts in Outer Space To Be Featured at NASA Research Park Gathering
Contacts: Pam Wigley / 412-268-1047 / pwigley@andrew.cmu.edu
Lauren Goshinski / 412-268-1533 / laurengo@andrew.cmu.edu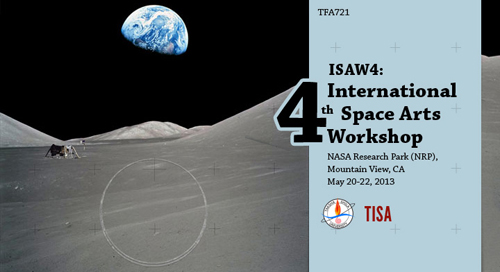 PITTSBURGH—The Fourth International Space Arts Workshop (ISAW4), co-chaired by Carnegie Mellon University Professor of Art Lowry Burgess, is scheduled for May 20-22 at the NASA Research Park in Mountain View, Calif. Burgess will co-chair the event with Adarsh Depak, president of TAKSHA University in Hampton, Va., and Frank Pietronigro of the Zero Gravity Arts Consortium.
Burgess said the ISAW4 focuses on the arts in outer space and the challenges humans face in their attempt to occupy other parts of the solar system. International artists, NASA professionals, scholars, historians and members of the public with an interest in space attend the workshop, where artists and scholars present ongoing projects on space exploration and discuss ways in which new information can be of use to the entire global space arts community.
In addition to the workshop, "Expositions: Space Arts," an exhibition of space art/zero-gravity art and moon arts, will be featured at the nearby Search for Extraterrestrial Intelligence (SETI) during the evening of May 20. The exhibit, open to ISAW4 attendees and the public, is being curated by Jean-Luc Soret of the Maison Européenne de la Photographie in Paris.
"It will be mind-transforming," Burgess said. "Every artist's work is unique and shows what artists are doing to further the awareness of outer space and a new outer space presence on earth."
Burgess has created outer space art since 1965. In 1989, he became the first artist to successfully work with NASA to put art in outer space, and he is considered among the pioneers of space art. He said his reasoning for pursuing space art is simple: "When people live in outer space, humans will take culture with them — the arts, in particular. Equally, the reach into outer space will redefine culture on earth."
Burgess said Carnegie Mellon provides a productive environment in which to embrace the cultural and scientific side of space exploration.
"What sets us apart is our College of Fine Arts, which has long promoted interdisciplinary involvement among all areas of study," he said. "Integrating the arts with technology and science, for example, is common at Carnegie Mellon."
A primary goal of the ISAW4 is to prepare for a major space arts presence at the May 2014 International Space Development Conference (ISDC) in Los Angeles, the largest meeting organized by the National Space Society (NSS) in Washington, D.C. Burgess has been invited by the chairman of the NSS executive board to develop space arts for ISDC.
"People from around the world have an intense interest in space travel, in the arts and culture," he said. "We are of different backgrounds and professions, but we are working on convergence and are much closer to a common ground of creativity than ever before. Space art can take us there."
ISAW4 is free and open to the public. Registration details and more information is available at the Taksha University website.
      
###
Image above courtesy of Pablo Garcia of the Moon Arts Group.