May 30, 2013
Press Release: Carnegie Mellon's Gabriela Hug Named Outstanding Young Engineer by the Power and Energy Society
Contact:
Chriss Swaney / 412-268-5776 /
swaney@andrew.cmu.edu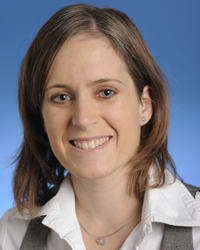 PITTSBURGH-Carnegie Mellon University's Gabriela Hug will receive the Outstanding Young Engineer Award from the Institute of Electrical and Electronics Engineers' (IEEE) Power and Energy Society (PES) July 23 in Vancouver, British Columbia.
"I'm extremely honored to receive this award as this is a great recognition for my involvement in IEEE and the energy research that I and my students are doing," said Hug, an assistant professor in
Electrical and Computer Engineering
(ECE) and
Engineering and Public Policy
(EPP) at CMU. Hug has been working on various topics in the field of optimization and control in electric power systems with the overall goal to provide the computational methods required for the integration of large-scale renewable generation.
The award is presented annually at the IEEE PES annual meeting. Recipients receive a plaque, up to $1,000 for travel to attend the meeting, and have the privilege of designating a college or university to receive a $2,000 scholarship for an electrical engineering undergraduate.  
"We are pleased and proud of Professor Hug's accomplishments. From my first encounter with her, I was sure she would be an outstanding engineer because she is intelligent, analytical, hardworking and innovative," said Goran Andersson, a professor at the Eidgenossiche Technische Hochschule Zurich (ETH), Hug's Ph.D. adviser and the award nominator. "The award is a corroboration of my thoughts for the past decade, and I'm convinced that we've just seen the beginning of a very successful career."
A research pioneer,
Hug recently received the National Science Foundation's Early Career Development Award
, its most prestigious award for junior faculty.
Hug reports that she is developing tools to enable a self-managing grid by the means of ubiquitous power flow control. "The main goal is to make the power grid more flexible so that it can adjust to the increasingly varying flows caused by variable renewable generation," she said.
"This is a wonderful honor for a talented and innovative engineer who is working on systems to improve our nation's critical infrastructures," said M. Granger Morgan, the Thomas Lord University Professor of Engineering, EPP head and director of the Wilton E. Scott Institute for Energy Innovation.
In addition to conducting award-winning research at CMU, Hug is co-director of the Electric Energy Systems Group, the leader of the thrust area on Transmission and Distribution Management in the Smart Grid Research Center and a member of the Carnegie Mellon Electricity Industry Center.  
She obtained her master's degree in 2004 and Ph.D. in 2008 in Electrical and Computer Engineering from ETH Zurich, Switzerland, and she also received a diploma in higher education teaching from the same institution in 2007.
For additional information about Hug's latest award, visit
http://www.ieee-pes.org/outstanding-young-engineer-award
.
###