May 29, 2013
Press Release: Carnegie Mellon's Lorenz T. Biegler Named To Head Department of Chemical Engineering
University Professor Tapped for Leadership and Innovative Research Record in Engineering
Contact:
Chriss Swaney / 412-268-5776 /
swaney@andrew.cmu.edu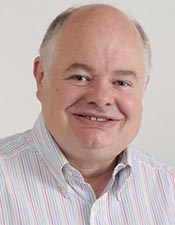 PITTSBURGH-Carnegie Mellon University has named Lorenz (Larry) T. Biegler, a University Professor and the Bayer Professor of Chemical Engineering, as the new head of its
Chemical Engineering Department
, effective Nov. 1. He succeeds Andrew J. Gellman, who has been department head since 2003.
"This is a wonderful honor for me and I pledge to work diligently with all my esteemed colleagues to continue the leading edge research so endemic to our outstanding Chemical Engineering Department," Biegler said. "CMU is a unique place where we continue to solve some of the world's most pressing challenges, including the ongoing debate about energy independence for the U.S."
A member of the
College of Engineering
faculty since 1981, Biegler is internationally renowned for his research in computer-aided process engineering and his projects in design research and systems analysis. He is a member of the National Academy of Engineering and a fellow of the American Institute of Chemical Engineers. He also served as director of CMU's Center for Advanced Process Decision-Making from 1999-2005.
"I am very pleased that Larry Biegler will join the college leadership team as the new head of the Chemical Engineering Department," said James H. Garrett Jr., dean of the College of Engineering and the Thomas Lord Professor of Civil and Environmental Engineering at CMU. "His phenomenal scholarly reputation, demonstrated commitment to professional service, passionate interest in making the Chemical Engineering Department the best it can be, and collegial nature make him an excellent choice for this position."
In addition to research and teaching at CMU, Biegler has been a visiting scholar at Northwestern University, a scientist-in-residence at Argonne National Lab, a distinguished faculty visitor at the University of Alberta, a Gambrinus Fellow at the University of Dormund, a Fulbright Fellow at the University of Heidelberg, a Cheungkong Visiting Professor at Zhejiang University and a Distinguished Jubilee Lecturer at ITT Bombay. He has taught courses on dynamic optimization in Argentina, China, Finland, Colombia, Germany and Mexico, and started new research activities with colleagues in all of these countries.
Among his many awards for outstanding achievements, Biegler is a recipient of the Warren K. Lewis Award for Chemical Engineering Education and the Computing in Chemical Engineering Award from the American Institute of Chemical Engineers.
Biegler also serves as an associate editor for the SIAM Journal of Optimization and Industrial and Engineering Chemistry and was the meeting program chair for the 2012 American Institute of Chemical Engineers (AICHE) Conference in Pittsburgh.
He received his bachelor's degree in chemical engineering in 1977 from the Illinois Institute of Technology, and his master's degree (1979) and Ph.D. (1981) in chemical engineering from the University of Wisconsin.
He is married to Lynne Webber and they have one son, Matthew, who recently graduated from CMU.
###