May 21, 2013
News Brief: Keith Webster To Succeed Gloriana St. Clair as Dean of the Libraries
In an email to the university community today (May 21), Provost and Executive Vice President Mark S. Kamlet announced that Keith Webster will be Carnegie Mellon's next Dean of the Libraries, effective July 1. He succeeds Gloriana St. Clair, who is stepping down after serving as dean for 15 years. The following is Kamlet's announcement.
Dear Members of the Carnegie Mellon Community: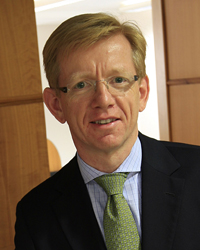 On behalf of President Jared L. Cohon, I am delighted to announce that Keith Webster (pictured at right) will be Carnegie Mellon's next Dean of the Libraries. He will hold the rank of Principal Librarian and will also have a courtesy academic appointment at the H. John Heinz III College. His appointment will begin July 1.

Prior to his appointment to Carnegie Mellon, Keith was vice president and director of academic relations and strategy for the global publishing company John Wiley and Sons. He was formerly dean of libraries and university librarian at the University of Queensland in Australia, one of the largest libraries in the southern hemisphere, where he supervised a staff of 250. His prior positions include university librarian at Victoria University in New Zealand, and head of information rights at HM Treasury, London, United Kingdom.

Keith obtained his Bachelor of Science in Library Studies and Computer Science from Loughborough University in the UK, a master's degree in Management of Libraries and Information Services from the Graduate School of the University of Wales (Aberystwyth), and is completing a master's degree in International Economics and Finance from the University of Queensland.

He has been a principal investigator on significant government and foundation grants in Australia, England and Scotland, one of them supporting the creation of a digital archive, Text Queensland, which he directed. He is a member of the board of directors of the National Information Standards Organization, and among many other professional contributions was a trustee of the John Campbell Trust, and chair of the deans and directors of libraries of the Universitas21 consortium.

I would like to offer a special thanks to the members of the search committee. They did an outstanding job, not only in terms of outcome but also in terms of process. I know that it was an exceptional amount of work. The chair of the committee was Vice Provost Amy Burkert and I give her special thanks for taking on this substantial activity on top of the many others that fell her way this year. 
 
The search committee members were:
Shelley Anna, Associate Professor of Mechanical Engineering;
Martin Aurand, Head, Arts Library and Special Collection;
John Lehoczky, Dean, Dietrich College of Humanities and Social Sciences;
Denise Novak, Head of Acquisitions;
Richard Randall, Assistant Professor of Music;
Kenneth Rose, System Manager;
Michael Shamos, Distinguished Career Professor, Language Technologies Institute;
Stephen Spear, Professor of Economics; and
Rahul Telang, Professor of Management Information Systems.
Edna Jackson, Director of the Provost's Office, staffed the committee with her usual excellence.
I thank them for their great and wise service.

Lastly, I want to recognize the seminal contributions of Dean Gloriana St. Clair to the libraries and to Carnegie Mellon during her 15 years as Dean of the Libraries. It has been a transformational time for the libraries under Gloriana's leadership. She moves to emeritus status upon Dean Webster's arrival.

Sincerely,

Mark S. Kamlet
Provost and Executive Vice President
Pictured above is Keith Webster.