May 16, 2013
Press Release: Cohon and Ralston To Deliver Keynote Addresses at Carnegie Mellon's 116th Commencement
PayTango Co-founder Brian Groudan To Represent Graduates as Student Speaker
Contact:
Ken Walters / 412-268-1151 /
walters1@andrew.cmu.edu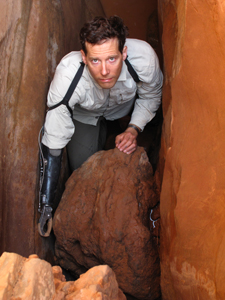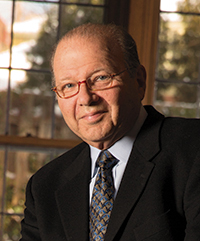 PITTSBURGH-Carnegie Mellon University is honored to present President Jared L. Cohon and alumnus Aron Ralston as keynote speakers for its 116th commencement ceremony, at 11 a.m., Sunday, May 19 in Gesling Stadium.
Cohon's address will culminate his 16-year tenure, in which he has led CMU to unprecedented success and growth as a global university. He will be stepping down as president on June 30.
Ralston's story of survival in Blue John Canyon 10 years ago has inspired millions. The Oscar-nominated Hollywood movie "127 Hours," is based on his book, "Between a Rock and a Hard Place." An outstanding scholar and influential student leader, Ralston graduated from CMU in 1997 with majors in mechanical engineering and French and a minor in piano performance.
Entrepreneur Featured as Student Speaker
Joining Cohon on stage will be this year's student speaker, Brian Groudan. A December 2012 graduate, Groudan earned his degree with majors in information systems and human-computer interaction and a minor in communication design. He is a co-founder of PayTango, a fingerprint-based payment and identification system that debuted on the Pittsburgh campus and has garnered headlines across the U.S..
CMU To Award Five Honorary Degrees
It is a Carnegie Mellon tradition to award honorary degrees at commencement to exemplary leaders, whose life and work serve as an inspiration for Carnegie Mellon students, faculty and staff. The diversity of this year's candidates represents the intersection of business, technology and the arts, a university hallmark.
The following individuals will receive honorary degrees:
Jules Fisher, a Tony Award-winning lighting designer and producer, will receive a Doctor of Fine Arts. He is a 1960 graduate of CMU's College of Fine Arts.
Charles M. Geschke, a renowned software industry leader who is co-founder and chairman of the board of Adobe Systems, Inc., will be awarded a Doctor of Science and Technology. He is a 1973 graduate of CMU's Mellon College of Science.
Mark A. Nordenberg, chancellor and distinguished service professor of law at the University of Pittsburgh, will be presented with a Doctor of Humane Letters.
Ratan N. Tata, an esteemed international business leader who is chairman of the Tata Trusts, will receive a Doctor of Business Practice.
Charles M. Vest, president of the National Academy of Engineering and president emeritus of the Massachusetts Institute of Technology, will be awarded a Doctor of Science and Technology.
Learn more about the honorary degree recipients at
http://www.cmu.edu/commencement/keynote_honorees/index.html
.
The commencement ceremony will be webcast at
http://www.cmu.edu/commencement
.

Note to reporters:
Media planning to attend Sunday's ceremony should contact Ken Walters at 412-480-4396 for instructions on seating or photography.
###