March 28, 2013
Press Release: Carnegie Mellon Students Win Energy Department's Better Buildings Case Competition
Team's Strategies Earn First Place in Two Categories
Contacts: Chriss Swaney / 412-268-5776 / swaney@andrew.cmu.edu
Pam Wigley / 412-268-1047 / pwigley@andrew.cmu.edu
Mark Burd / 412-268-3486 / mdburd@andrew.cmu.edu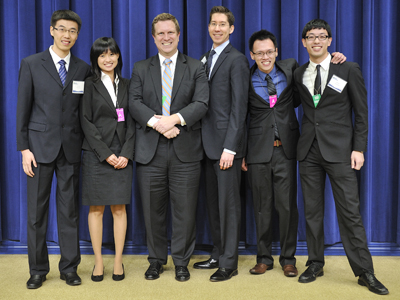 PITTSBURGH—A multidisciplinary team of Carnegie Mellon University students took top honors among 14 university teams in a Department of Energy competition that challenged participants to create strategies to cut energy waste and improve the efficiency of commercial buildings nationwide.
The CMU team was awarded "Most Innovative" for its plan to help the City of Fort Worth, Texas, and local utilities and industry work together to make commercial and industrial buildings 20 percent more energy efficient by 2020. The team also won "Best Proposal" for its "Everything Store" case study, in which students recommended options to increase the cooling efficiency in big retail store rooftop air conditioning units.
"The team was up against some challenging competition and this is where the practical problem-solving, interdisciplinary approach that is the culture at Carnegie Mellon shines through," said team adviser Stephen R. Lee, professor and head of CMU's School of Architecture. "The jury was particularly impressed with the sophistication of the computer-based performance simulation of the cases done by the School of Architecture students in the Center for Building Performance & Diagnostics."
The CMU team members are: Jie Yee Chan, a master's degree student in electrical and computer engineering; Adrian Chong and Chao Ding, doctoral students in the School of Architecture; Donald Johnson, a School of Architecture alumnus and current MBA student in the Tepper School of Business; and Alan Jenn, Mili-Ann Tamayao and Allison Weis, Ph.D candidates in engineering and public policy (EPP).
"The case studies consisted of real scenarios, background information and data provided by several retail stores, including Kohl's, Staples and Target," Jenn said. "We were thrilled to win in two categories and to tackle real-world problems."
"This is wonderful recognition for our CMU students as they use skills and experience in a wide range of disciplines from engineering and finance to urban planning and public policy," said M. Granger Morgan, EPP head and director of CMU's Scott Institute for Energy Innovation.
A key mission of the Scott Institute, established last fall, is to take a systems approach to energy issues — collecting information and research results through CMU — to provide an up-to-date understanding of energy issues facing today's policymakers.
Other universities competing in the competition included the Massachusetts Institute of Technology, University of California, Santa Barbara, the University of Chicago and Yale University.
For additional information, see http://www1.eere.energy.gov/buildings/betterbuildings/casecompetition.html
Read the team's paper at http://www1.eere.energy.gov/buildings/betterbuildings/docs/2013-winners/FortWorth_CMU_MI.pdf
View the team's presentation at http://www1.eere.energy.gov/buildings/betterbuildings/docs/2013-winners/FortWorth_CMU_MIppt.pdf
     
     
###
The Carnegie Mellon team poses for a photo at the competition awards ceremony at the Eisenhower Executive Office Building on the White House Campus. Pictured (l-r) are: Chao Ding; Jie Yee Chan; David Danielson, Assistant Secretary for Energy Efficiency and Renewable Energy; Donald Johnson; Adrian Chong; and Alan Jenn. Team members not pictured are: Allison Weis and Mili-Ann Tamayao.