March 25, 2013
Press Release: Collaborative MFA Exhibition Brings Together Emerging Artists from Pittsburgh and Chicago
Contacts: Lauren Goshinski / School of Art / 412-268-1533 / laurengo@andrew.cmu.edu
Pam Wigley / Media Relations / 412-889-6238 / pwigley@andrew.cmu.edu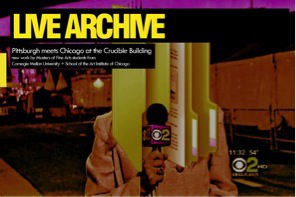 PITTSBURGH—Emerging artists from Pittsburgh and Chicago will collide in "LIVE ARCHIVE," a first-ever collaborative exhibition among first- and second-year Master of Fine Arts (MFA) students at Carnegie Mellon University's School of Art and the School of the Art Institute (SAIC) of Chicago.
An opening reception will be held from 7 p.m. to midnight Friday, April 12. The exhibit will run from 7 to 9 p.m., April 13-14, and from 5 to 9 p.m., April 19-26, at the Crucible Building, a warehouse space in Pittsburgh's Strip District. All events are free and open to the public.
Featuring work ranging from art and technology, performance, and social practice to installation, kinetic, and bio art, the show "encourages long-term connections with peer art practitioners to generate a larger conversation about the emergence of interdisciplinary art," says Oreen Cohen, who will earn her master's degree at CMU in 2014. "We hope this model of working together can affect the way ideas and interdisciplinary art are generated, shared and experienced across an academic and social spectrum."
In addition to Cohen, exhibiting artists from CMU are: Carl Bajandas, Elizabeth Buschmann, Rafael Abreu-Canedo, JingJing Chen, Isla Hansen, Yunmi Her, Dakotah Koniceck, Jaewook Lee and Lucia Nhamo. Artists from SAIC are Guy Eytan, Sanghwa Hong, Andrew Kaye, Sarah Knudtson, Stephen Kwok, Joshua Patterson, Felipe Rodriguez, Troy Schafer, Samuel Adam Swope and Christine Shallenburg.
"The communities within graduate art programs are ones that rarely have the opportunity to co-mingle due to workload, lack of organization and geography. This is a rare opportunity to bring together emerging artists to exchange ideas for the purpose of creating new work," said Buschmann, a second-year master's degree student.
Initiated in summer 2012, graduate students from both programs spent the fall semester proposing platforms in both cities for exchange. A Think-Tank Weekend in January 2013 brought everyone together at Cleveland Sculpture Center with a special guest, Cleveland Museum of Art's Assistant Curator Reto Thuring. There, they presented their individual work and engaged in fast-paced, round-robin sessions to brainstorm collaborative pieces.
The Pittsburgh exhibition will be followed by an exhibition in Chicago, with plans for the exchange to become a permanent part of both school's MFA program. More information on their collaboration, including artist profiles, can be found at www.cmu-saic.com.

# # #