March 13, 2013
Press Release: Carnegie Mellon School of Art Presents "Basement Miracle"
2013 MFA Thesis Exhibition Opens March 29
Contacts:
Lauren Goshinski / School of Art / 412-268-1533 /
laurengo@andrew.cmu.edu
Pam Wigley / Media Relations / 412-889-6238 /
pwigley@andrew.cmu.edu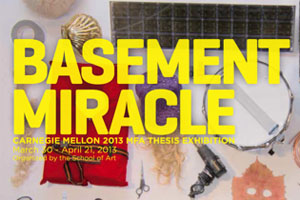 PITTSBURGH-Seven Masters of Fine Arts candidates present their final work in "Basement Miracle," the School of Art's 2013 MFA Thesis Exhibition, with an opening reception from 6 to 8 p.m., Friday, March 29, in the
Miller Gallery
at Carnegie Mellon University.
The exhibition features new work by artists Scott Andrew, Felipe Castelblanco, Craig Fahner, Steve Gurysh, Luke Loeffler, Dan Wilcox and Erin Womack. The annual MFA Thesis exhibition provides graduating students with the valuable experience of participating in a professional gallery exhibition, while giving the community an opportunity to see work by exciting and promising new artists emerging from Carnegie Mellon.
Guests Steve Deitz, president and artistic director of Northern Lights, and Daniel Baumann, co-curator of the 54th Carnegie International at the Carnegie Museum of Art, will lead critiques from 6 to 9 p.m. on April 4 and 18. The exhibition runs through April 21. All events are free and open to the public.
"They say that some people have gone into the basement of Carnegie Mellon's Doherty Hall and never been seen again ..." said John Carson, head of the
School of Art
, referring to the CMU location where the artists have created their recent works and the intensity with which they dedicate themselves to the projects. "In subterranean studios, they have performed their alchemy - ingeniously transforming everyday materials, objects, and devices into extraordinary constructions, challenging propositions, outrageous performances, political statements, and conceptual conundrums."
About the Artists:
Scott Andrew
creates immersive environments that generate confrontational and absurd immersive experiences with characters culled from parallel universes. His opulent fantasies draw from prelapsarian longing, fetish and kitsch by recycling fashion, mythology and items from his grandma's attic.
www.scottnandrew.com
Felipe Castelblanco
creates participatory experiences and coexistent (if sometimes contentious) encounters across vast distances, through urban interventions, video and networked installations. He is currently developing a body of work that imagines air as a material embodiment of the public sphere.
www.felipecastelblanco.com
Craig Fahner
is a sound and media artist whose radical uses of media and technology facilitate unlikely participatory experiences.
www.craigfahner.com
Steve Gurysh
creates time-based and sculptural media that explore economies of energy, cycles of technological advancement and obsolescence, as well as sincere attempts to encounter the miraculous.
www.stevegurysh.com
Luke Loeffler
works with sculpture and code in response to the consumption, influence and politics of personal technologies, exploring the gap between our desires reflected through our tools and the disappointing reality they can unintentionally engender.
www.lukeloeffler.com
Dan Wilcox
is an astronaut. His recent research and experience on a simulated Mars mission in the Utah desert laid the groundwork for a concept album and astronaut rock opera, robotcowboy: Onward to Mars, that viewers will encounter in this exhibition.
www.danomatika.com

Erin Womack
creates multimedia artworks that embody a series of imagined worlds, creating a framework for mapping consciousness and reflecting the chaos of the human experience.
www.erin-womack.com
###