March 11, 2013
Media Advisory: Carnegie Mellon Robot, HERB, Featured in Oreo "Cookie vs. Creme" Campaign Robot Separates Creme from Cookie in YouTube Video
Contact: Byron Spice / 412-268-9068 / bspice@cs.cmu.edu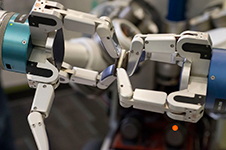 What: Carnegie Mellon University's Home Exploring Robot Butler, better known as HERB, is featured in a YouTube video that is part of Oreo's ongoing "Cookie vs. Creme" campaign.  HERB is a two-armed, mobile robot. In the humorous video, HERB twists an Oreo apart and scrapes off the "precious" creme. "Cookie vs. Creme" was launched with the "Whisper Fight" commercial during this year's Super Bowl broadcast. HERB is the fourth and final "Oreo Separator" machine featured in a series of online videos. Previous separator machines were custom-made for the purpose; HERB is the only research robot that was re-purposed for the videos.

Oreo Separator Video: http://www.youtube.com/user/Oreo?feature=watch
Carnegie Mellon Behind the Scenes Video: http://www.youtube.com/watch?v=IxyrD-l5e8I

About HERB: Normally, HERB serves as the research platform of the Personal Robotics Lab, which is directed by Siddhartha Srinivasa, associate professor in Carnegie Mellon's Robotics Institute. HERB is a test bed for algorithms, software and other technology that will enable robots to perform challenging manipulation tasks in places where people live and work. It is a project of the Quality of Life Technology Center, a National Science Foundation Engineering Research Center dedicated to applying robotic and information technologies to the everyday lives of people. The center is jointly operated by Carnegie Mellon and the University of Pittsburgh.
###
Pictured above is HERB with the Oreo in his grasp.