March 11, 2013
Press Release: Carnegie Mellon's BXA Programs Celebrate Student Work With 15th Annual Kaleidoscope Exhibition, March 22-April 6
Frame Gallery in Oakland to Showcase Students' Interdisciplinary Art
Contacts: Emily Syes / BXA Intercollege Degree Programs / esyes@andrew.cmu.edu
Pam Wigley / Media Relations / 412-268-1047 / pwigley@andrew.cmu.edu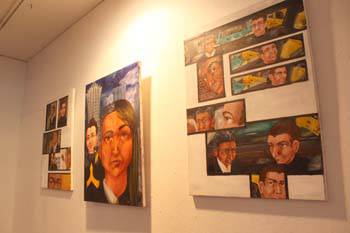 PITTSBURGH—Students in Carnegie Mellon University's BXA Intercollege Degree programs take full advantage of the university's interdisciplinary culture and annually celebrate the fruits of their studies through Kaleidoscope, an exhibition of their work representing the intersection of the arts with disciplines like the humanities and computer science. This year's Kaleidoscope, now in its 15th year, opens with a 7 p.m. reception Friday, March 22, at the Frame Gallery, 5200 Forbes Avenue, and runs through April 6. It's free and open to the public.
The BXA programs feature three bachelor's degrees:  the Bachelor of Humanities and Arts (BHA); the Bachelor of Science and Arts (BSA); and the Bachelor of Computer Science and Arts (BCSA). These programs are growing in popularity among high school students preparing for college and among current CMU students, according to M. Stephanie Murray, director and academic adviser of the program.
"This year, especially, I've had remarkably more inquiries about BXA," she said. "High school students see that BXA offers a course of study that is both structured to provide crucial disciplinary knowledge, as well as the opportunity to integrate both areas of concentration. CMU students see what BXA students are accomplishing and want to take advantage of the remarkable resources available at CMU in pursuing their interdisciplinary interests."
Students plan and curate Kaleidoscope each year. This year, the BXA student co-chairs organizing the exhibition are: Danielle Dong (BHA'14) with concentrations in ethics, history, public policy and architecture; Emily Faber (BHA'14) with concentrations in creative writing and art; and Prisca Ohito (BHA'13) with concentrations in public policy and architecture. They sought a mix of creative work for Kaleidoscope, tapping into the diverse group of students within BXA who are studying interdisciplinary areas such as psychology and design, creative writing and art, biological sciences and music performance, mathematical sciences and drama, and computer science and architecture, to name a few.
"Essentially, the works within Kaleidoscope celebrate and incorporate artworks from each school within the College of Fine Arts — Architecture, Art, Design, Drama and Music," Murray said. "Visitors will experience everything from game design, computer animation and robotic art to poetry, music and dramatic performances. The exhibition captures the interests of our students in a way no 'mainstream' exhibition can."
For more information about Kaleidoscope or the BXA Intercollege Degree programs, visit www.cmu.edu/interdisciplinary or contact Emily Syes at 412-268-7690 or esyes@andrew.cmu.edu.

###