June 14, 2013
Press Release: Carnegie Mellon's Metin Sitti Discusses Medical Micro-Robotics at World Science Festival
Contact: Chriss Swaney / 412-268-5776 / swaney@andrew.cmu.edu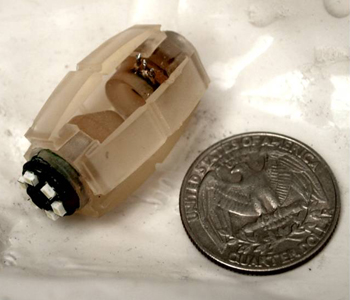 PITTSBURGH—Carnegie Mellon University's Metin Sitti showcased one of his latest creations — a pill-sized capsule robot capable of performing tissue biopsies and dispensing drugs inside a human — at the 2013 World Science Festival June 10 in New York City.

"It was a wonderful opportunity to meet and chat with top-notch scientists, artists, journalists, politicians and most importantly the public at this event," said Sitti, a professor of mechanical engineering and head of CMU's NanoRobotics Lab.
The World Science Festival, sponsored by the Science Festival Foundation since 2008, is designed to help the general public better understand science and the many research implications for the future.
Sitti is working to create miniature, micron-sized medical robots that can interact inside the human body and work cooperatively with people in a variety of health care environments.
While pill-sized capsule endoscopes are increasingly used as wireless imaging devices for diagnosing disease in the human digestive tract, the technology is limited to sensing applications.
"I am working to address these limitations by designing and manufacturing new pill-sized soft capsule robots that can be controlled remotely to enable critical diagnostic and therapeutic functions for the gastrointestinal tract," said Sitti, who received a three-year $787,000 grant from the National Institutes of Health and a CMU matching grant in 2012.
Sitti also discussed what we can expect in the next decade of nanomedicine during a World Festival panel session that also included: New York Times contributor Carl Zimmer; Zahl Fayad, a radiologist from Mount Sinai School of Medicine; Peter Hoffmann, a physicist from Wayne State University; and Bjorn Torger Stokke, a biophysicist from the Norwegian Institute of Technology.
For additional information about the program, see http://worldsciencefestival.com/events/science_on_the_verge
###
Pictured above is one of Metin Sitti's latest creations — a pill-sized capsule robot about the size of a quarter that's capable of performing tissue biopsies and dispensing drugs inside the human body.