July 09, 2013
Press Release: Carnegie Mellon Drama Student Has Role In "Side by Side by Sondheim" Production
Contacts: Pam Wigley / 412-268-1047 / pwigley@andrew.cmu.edu
                Renee Caudle / 412-268-4045 / rcaudle@andrew.cmu.edu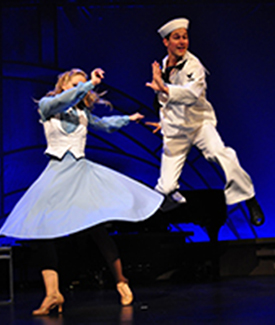 PITTSBURGH—Carnegie Mellon University School of Drama student Michael Campayno is the lead male understudy in "Side by Side by Sondheim" at Pittsburgh CLO's Cabaret through Aug. 18.
Campayno, a rising senior majoring in musical theatre, is a graduate of Pittsburgh's Central Catholic High School and a native of nearby Forest Hills.  He began acting in his sophomore year of high school.
"All of my five siblings performed as I grew up, so each one of them inspired me to perform," Campayno said.
Campayno won the 2008 Pittsburgh CLO's Gene Kelly Award for Best Supporting Actor for his role as Gaston in Central Catholic's production of "Beauty and the Beast." He has been in several Pittsburgh CLO productions, including "Jekyll and Hyde," "Jesus Christ Superstar," "Love Changes Everything" and "The Sound of Music." He also has been in the North Shore Musical Theatre's production of "All Shook Up" and the CLO Cabaret's production of "S'Wonderful."
Campayno has succeeded on stage and in the classroom.
"He has grown so much and will have no problem working in the theater world and making all of us proud of him," said Claudia Benack, associate professor of voice.
Campayno said his education at CMU has had a significant impact on his success.
"What makes the School of Drama one of a kind is the teachers," Campayno said. "The school provides a solid, excellent technique base. Most importantly, however, the teachers focus on you — the individual — and help you get in touch with your strengths, fears and all of the elements one needs to be an honest and present actor."
The musical revue "Side by Side by Sondheim" is a collection of songs by Broadway composer Stephen Sondheim. The production features music from many of his works, including "Company," "Follies" and "Pacific Overtures." It also features songs he wrote with Leonard Bernstein, Jule Styne and Richard Rodgers.
"Because it's a revue, the challenge and the gift of working and performing in this show is finding where these songs come from inside of you," Campayno said. "Surely, you are reminiscent of Sondheim's characters, but mostly it's the actors playing a wide spectrum of themselves. One minute you are singing 'Love's a Bond,' and the next you're singing 'Being Alive.'"
Tickets can be purchased at CLOcabaret.com or by calling 412-456-6666.
###
Carnegie Mellon University student Michael Campayno (pictured above) is the lead male understudy in "Side by Side by Sondheim" at Pittsburgh CLO's Cabaret through Aug. 18.