January 07, 2013
Press Release: Carnegie Mellon University's James H. Garrett Jr. Named Dean of College of Engineering
University Alum Tapped for Leadership, Innovative Research, Teaching Excellence and Building Successful Industrial Partnerships in Civil and Environmental Engineering
Contact: Chriss Swaney / 412-268-5776 / swaney@andrew.cmu.edu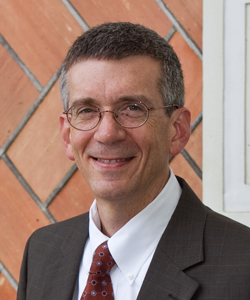 PITTSBURGH—Carnegie Mellon University has named James H. Garrett Jr., the Thomas Lord Professor of Civil and Environmental Engineering, dean of the College of Engineering, effective Jan. 1. He succeeds Pradeep K. Khosla, who left in August to become chancellor of the University of California, San Diego.
"We know Jim's broad experience in research, teaching and creating meaningful partnerships with business and industry make him an excellent choice to head our outstanding College of Engineering," said Mark S. Kamlet, provost and executive vice president of CMU.
A member of the CIT faculty since 1990 and a Carnegie Mellon alumnus (CE'82, '83, '86), Garrett has demonstrated leadership in research and education initiatives both with Carnegie Mellon and internationally. He was head of the top-ranked Department of Civil and Environmental Engineering (CEE) and co-director of the Pennsylvania Smarter Infrastructure Incubator (PSII), which is a research center aimed at creating, applying and evaluating applications of sensing, data analytics and intelligent decision support for improving the construction, management and operation of infrastructure systems. Working closely with colleagues from IBM, Garrett established the IBM Smarter Infrastructure Lab, a research facility within the PSII.
During his tenure as CEE department head, an excellent group of faculty and staff have been hired and well mentored. The department successfully promoted all of its faculty, major investments in the educational and research facilities were made, and the department rankings remain very strong. Garrett also has been very successful in adding significant endowment for several named graduate fellowships, graduate travel support, strategic initiatives and a faculty chair honoring former Provost and CEE Professor Paul Christiano.
"I am honored and excited to have been selected to be the next dean of CIT. The College of Engineering is thriving. I greatly look forward to engaging with the entire CIT community, and the greater university community, in discussions of existing and new education and research initiatives in CIT. I also plan to explore the initiatives that will improve the quality of life for faculty, students and staff and strengthen the college and university. I look forward to working together with all of you to take us to a new level of success," Garrett said.
"For many years, Jim has been a leader in research that has had an impact on the world we live in. He has been instrumental in launching research initiatives committed to creating fast, reliable monitoring systems to collect and process data about a myriad of complex networked infrastructure systems critical to both the nation's security and daily commerce," Kamlet said.
Garrett's research and teaching interests are oriented toward applications of sensors and sensor systems to civil infrastructure condition assessment; application of data-mining and machine learning techniques for infrastructure management problems in civil and environmental engineering; mobile-hardware software systems for field applications; and representations and processing strategies to support the usage of engineering codes, standards, specifications and knowledge-based decision support systems. Garrett has published his research in more than 60 refereed journal articles, over 80 refereed conference papers, more than 90 other conference papers, and 10 sections and chapters in books or monographs.
Prior to becoming department head in 2006, Garrett served for six years as an associate dean for Academic Affairs in the College of Engineering.
Elected a fellow of the American Society of Civil Engineers (ASCE) in 2009, Garrett has received numerous awards, including the 2007 Steven J. Fenves Award for Systems Research at Carnegie Mellon, the 2006 ASCE Computing in Civil Engineering Award and the 2001 ASCE Journal of Computing in Civil Engineering Best Paper Award for a paper he co-authored with Han Kiliccote, titled "Standards Usage Language (SUL): An Abstraction Boundary Between Design Systems and Standards Processors."
He was a co-recipient of the 1993 ASCE Wellington Prize for his paper titled "Knowledge-Based Design of Signalized Intersections," which he co-authored with Rahim Benekohal and Jeffrey Linkenhelf. He also was a co-recipient of the 1990 ASCE Moisseiff Award for his paper titled "Knowledge-Based Standard-Independent Member Design," which he co-authored with Steven J. Fenves. And in 1994, he won a Humboldt stipend and spent six months at the University of Karlsruhe and the Technical University in Munich, Germany.
Before joining CMU as a faculty member, Garrett served as an assistant professor in the Department of Civil Engineering at the University of Illinois at Urbana-Champaign from 1987-1990. He worked for Schlumberger Well Services in the Houston Downhole Sensors Division from 1986-1987.
Garrett received his bachelor's degree, master's degree, and Ph.D. in civil engineering from Carnegie Mellon. He is married to RuthAnn, a 1983 CEE alumna, and they have two children: a son, Patrick (CE'12), and a daughter, Ellen (A'11).
###