January 31, 2013
Press Release: Carnegie Mellon University's Onur Mutlu Receives Prestigious Academic Accolade
Contact: Chriss Swaney / 412-268-5776 / swaney@andrew.cmu.edu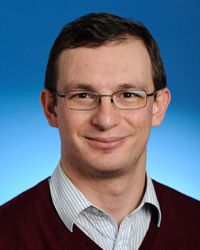 PITTSBURGH—Carnegie Mellon University's Onur Mutlu has been appointed the Dr. William D. and Nancy W. Strecker Early Career Professor in the top-ranked Department of Electrical and Computer Engineering.
"I am extremely enthusiastic about this award as my students, collaborators and I continue to pioneer new computer systems," Mutlu said.
Mutlu, who directs the SAFARI research group at CMU, says his group is researching how to make computing platforms and chips — from those used in mobile systems to those used in large-scale data centers — much more energy-efficient, predictable, robust and capable.
A major focus of his group is developing microprocessors, computer memories and platforms that can efficiently, quickly and reliably store, manipulate and communicate massive amounts of data. To do this, Mutlu's group is rethinking how computer memory should be designed.
Another major focus of Mutlu's research is to design systems and devices that can speed up medical and biological applications, such as DNA sequence analysis, by orders of magnitude. A goal of his research in this area is to design robust devices that can cost-effectively enable personalized medicine.
Mutlu also reports that his research team is creating microprocessors that are resilient to potential cybersecurity attacks by designing them to be much more predictable and robust. Mutlu says he enjoys inventing new computing systems, but an equally great passion of his is teaching and mentoring undergraduate and graduate students at Carnegie Mellon as well as at other institutions around the world.
"We are very pleased to be able to recognize the tremendous contributions that Professor Mutlu is making to the advancement of the performance of computer systems. His work is widely recognized and impacting this field in numerous ways," said Ed Schlesinger, the David Edward Schramm Professor and head of CMU's Department of Electrical and Computer Engineering.
Mutlu's research has received a cache of prestigious awards, including the inaugural 2011 Young Computer Architect Award from the Institute of Electrical and Electronics Engineers (IEEE) Computer Society's Technical Committee on Computer Architecture, the 2012 Intel Early Career Faculty Honor Program Award and the 2010 National Science Foundation CAREER Award. In 2012, CMU's College of Engineering recognized him with the George Tallman Ladd Research Award. His research has received numerous best paper awards in top publications.
Mutlu received his bachelor's degrees in computer engineering and psychology in 2000 from the University of Michigan. He earned a master's degree in 2002 and a Ph.D. in 2006 in computer engineering from the University of Texas at Austin. Before coming to Carnegie Mellon, Mutlu worked at Microsoft Research and spent summers at Intel and Advanced Micro Devices.
More information on Mutlu's research and awards are available at: http://users.ece.cmu.edu/%7eomutlu/; http://www.ece.cmu.edu/%7esafari/; http://www.cmu.edu/homepage/computing/2012/fall/early-career-award.shtml; and http://www.cmu.edu/news/stories/archives/2011/august/aug8_mutluaward.html.
      
###