January 22, 2013
Press Release: Carnegie Mellon University's Michael E. McHenry Awarded Distinguished Lecturer Status by IEEE Magnetics Society
Contact: Chriss Swaney / 412-268-5776 / swaney@andrew.cmu.edu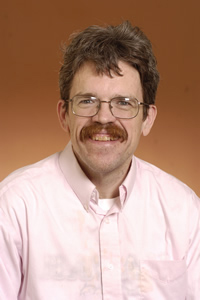 PITTSBURGH—Carnegie Mellon University's Michael E. McHenry will tour the world in 2013 giving more than 30 talks as a distinguished lecturer of the IEEE (Institute of Electrical and Electronics Engineers) Magnetics Society.
"I am extremely honored to be selected by such a prestigious professional organization as I work to broadcast the important potential of nanocomposite materials for a variety of industry sectors," said McHenry, a professor in materials science and engineering at CMU.
His lecture will focus on the development of high frequency magnetic materials for grid integration of renewable energy sources for bridging the gap between materials development, component design and system analysis, as well as future applications for nanocomposite magnets.
McHenry also is developing new materials and processes for improving the efficiency of multicore transformers. The work is expected to impact the economic success of America's manufacturing sector.
For more than a decade, McHenry has been developing new materials, processes and unique designs for power converters. He reports that this research could substantially reduce the size of industrial grid transformers and converters for electric vehicles and other applications.
An innovative researcher, McHenry has served as editor, publication chair and a member of the program committee for the Magnetism and Magnetic Materials (MMM) and Intermag Conference. He has published more than 250 papers, a textbook and owns two patents in the field.
"This is a wonderful honor for Michael McHenry as he continues to pioneer new research and as we seek to transform energy research and education," said Greg Rohrer, head of CMU's Department of Materials Science and Engineering.
McHenry received his bachelor's degree in metallurgical engineering and materials science from Case Western Reserve University in 1980 and a Ph.D. in materials science and engineering from the Massachusetts Institute of Technology (MIT) in 1988. He was a post-doctoral fellow at Los Alamos Lab from 1988 to 1989.
###