January 17, 2013
News Brief: SCS Alum Wins Oscar for Technical Achievement
Former Faculty Member Also Recognized by the Academy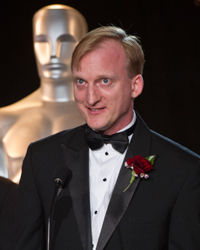 The Academy of Motion Picture Arts and Sciences has
announced
that Drew Olbrich (CS '92) will receive an Academy Award for his role in creating the Light system for computer graphics lighting, which has been used for Shrek, Madagascar and other animated DreamWorks features.
Former faculty member Doug James also will receive an award.
Olbrich, along with fellow honorees Lawrence Kesteloot and Daniel Wexler, created Light for PDI/DreamWorks, part of
DreamWorks Animation
, where he worked until 2006. They will be honored at the academy's annual Scientific and Technical Awards Presentation at The Beverly Hills Hotel Feb. 9.
Unlike other Academy Awards to be presented this year, which only recognize achievements of 2012, the Scientific and Technical Awards honor achievements with a proven record of contributing significant value to the process of making motion pictures.
"Virtually unchanged from its original incarnation over 15 years ago, Light is still in continuous use due to its emphasis on interactive responsiveness, final-quality interactive render preview, scalable architecture and powerful user-configurable spreadsheet interface," according to the academy.
Olbrich now works at
Jig
, which is part of
TastyLabs
, in Mountain View, Calif.
James, who was an assistant professor of computer science and robotics at CMU from 2002-2006, will be honored, along with Theodore Kim, Nils Thuerey and Markus Gross, for the invention of Wavelet Turbulence software.
"This technique allowed for fast, art-directable creation of highly detailed gas simulation, making it easier for the artist to control the appearance these effects in the final image," according to the academy.
James is an associate professor of computer science at Cornell University.
###
Pictured above is Drew Olbrich accepting his Academy Award for Technical Achievement during the Feb. 9 ceremony.