February 05, 2013
Press Release: Carnegie Mellon Names NSF Director as its Ninth President
Contact: Ken Walters / 412-268-1151 / walters1@andrew.cmu.edu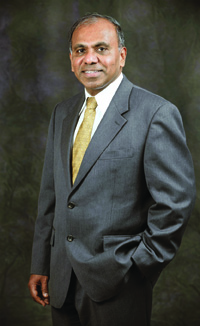 PITTSBURGH—Carnegie Mellon University named Dr. Subra Suresh as its new president, succeeding Dr. Jared L. Cohon, who is stepping down from the position after 16 years. Dr. Suresh will assume the post of CMU president on July 1.
Dr. Suresh is the director of the National Science Foundation (NSF), a $7-billion independent government science agency charged with advancing all fields of fundamental science, engineering research and education. Previously, Dr. Suresh served as the dean of the School of Engineering at the Massachusetts Institute of Technology (MIT). He is currently on leave as the Vannevar Bush Professor of Engineering at MIT while serving as director of NSF. He was nominated in 2010 to be NSF director by President Barack Obama and unanimously confirmed by the U.S. Senate. Dr. Suresh will become the ninth president in CMU's 113-year history.
"Dr. Suresh possesses the strategic vision, international expertise and commitment to technology research and education that will continue to build CMU's reputation as a world leader in higher education," said Ray Lane, partner at Kleiner Perkins, chairman of Hewlett-Packard and chairman of Carnegie Mellon's Board of Trustees. "Amongst hundreds of candidates, Dr. Suresh stood out as uniquely qualified to lead Carnegie Mellon — an institution internationally known for education and research in computer science, engineering, the arts and business. He also recognizes Carnegie Mellon's interdisciplinary capabilities — including its work in science, public policy, humanities and social sciences — to research and solve the world's most complex problems," Lane added.
In selecting Dr. Suresh, CMU established a 17-member presidential search committee, featuring broad representation of the university's board of trustees, esteemed faculty and alumni across all colleges and schools. James Rohr, chairman and CEO of PNC Financial Services Group and CMU life trustee, served as chairman of the committee. The faculty committee was chaired by Anthony Rollett, former chair of the Faculty Senate and professor in the Department of Materials Science and Engineering. CMU's Board of Trustees unanimously approved Suresh's selection.
"I am truly honored to have the opportunity to lead Carnegie Mellon University as its ninth president," Dr. Suresh said. "The extraordinary ability of the CMU faculty and students in bringing together cutting-edge research and education across multiple disciplines positions CMU uniquely to address national and global challenges. I look forward to working with the CMU community to further our global impact."
In his leadership roles at MIT, Dr. Suresh helped create new state-of-the-art laboratories, the MIT Transportation Initiative, and the Center for Computational Engineering; led MIT's efforts in establishing the Singapore-MIT Alliance for Research and Technology (SMART) Center; and oversaw the recruitment of a record number of women faculty in engineering.
While at NSF, Dr. Suresh launched several new initiatives aimed at furthering innovation, interdisciplinary research, global engagement, international collaboration, and human capital development, as well as broadening participation. Under his leadership, and in response to an invitation from the White House Office of Science and Technology Policy, NSF hosted a Global Summit on Scientific Merit Review in May 2012. This summit included the participation, for the first time, of the heads of leading science funding agencies from nearly 50 countries. Summit participants formed the Global Research Council as a potential vehicle for multinational collaborations among developed and developing countries and for harmonizing global science.
"Dr. Suresh's ability to bring groups together to solve problems fits perfectly with Carnegie Mellon's collaborative and interdisciplinary approach," Rohr said. "Along with his global expertise, CMU will benefit from his work as a researcher, educator and entrepreneur."
While at MIT, Dr. Suresh's experimental and modeling work on the mechanical properties of structural and functional materials, innovations in materials design and characterization, and discoveries of possible connections between cellular nanomechanical processes and human disease states have shaped new fields. He has co-authored more than 240 journal articles, registered 21 patents and written three widely used materials science books.
"Dr. Suresh's leadership experience and accomplishment at both MIT and NSF have positioned him perfectly to lead the next stage of great accomplishment by CMU," said Dr. Charles Vest, president of the National Academy of Engineering. "He is a leading researcher in engineering and applied science, a dedicated academic, and a seasoned executive."
Dr. Suresh received his Bachelor of Technology degree from the Indian Institute of Technology, Madras, in First Class with Distinction; a master's degree from Iowa State University; and a Doctor of Science degree from MIT. Following postdoctoral research at the University of California, Berkeley, and the Lawrence Berkeley National Laboratory, he joined the faculty of engineering at Brown University in December 1983, and was promoted to full professor in July 1989. He joined MIT in 1993 as the R.P. Simmons Professor of Materials Science and Engineering and served as head of MIT's Department of Materials Science and Engineering during 2000-2006.
Dr. Suresh has been elected to the U.S. National Academy of Sciences, National Academy of Engineering, American Academy of Arts and Sciences, Spanish Royal Academy of Sciences, German National Academy of Sciences and Royal Swedish Academy of Engineering Sciences, among others. He has been elected a fellow or honorary member of all the major materials research societies in the United States and India. In 2011, Dr. Suresh was honored with the Padma Shri by the President of the Republic of India. In April 2013, he will receive the Benjamin Franklin medal for his research work in mechanical engineering and materials science. He has been awarded seven honorary doctorate degrees from institutions in the U.S., India, Sweden, Spain and Switzerland.
Dr. Suresh has been married to Mary (Delmar) since 1986. They have two daughters, Nina and Meera.

###
Pictured above is Dr. Subra Suresh, who was named Carnegie Mellon's ninth president. A hi-res version of the above image is available for download. Photo by Sandy Schaeffer.