February 26, 2013
Press Release: Carnegie Mellon School of Art POP Cabaret Presents "14 Karat Filth"
Contacts: Lauren Goshinski / School of Art / 412-268-1533 / laurengo@andrew.cmu.edu
Pam Wigley / Media Relations / 412-889-6238 / pwigley@andrew.cmu.edu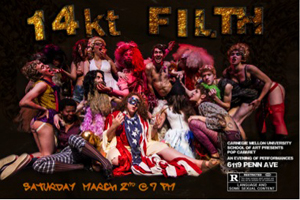 PITTSBURGH—Undergraduate students enrolled in the Carnegie Mellon University School of Art's POP Cabaret course present "14 Karat Filth," an evening of short stunning performances and mayhem, at 7 p.m., Saturday, March 2, at 6119 Penn Ave. in East Liberty. Attendees must be 18 years of age or older. Admission is free.
Led by Suzie Silver, professor of art, the course meets weekly at the Andy Warhol Museum, where students use the theater as a playground and performance space to create short solo and group performances. This is the second semester the museum has hosted POP Cabaret in partnership with the School of Art.
Performers are Reese Adams-Romagnoli, Adelaide Agymang, Michael Bennett, Christin Bongiorni, Lauren Faigeles, Claire Gustavson, Dani Lamorte, Katie O'Connor, Justin Old, Sam Poulos, Caroline Record, Adriana Rodriguez and Stephanie Ross, with special guest Audra Wist.
POP Cabaret explores performance strategies and themes spanning Camp, Lo-Fi Glamour, Neo-Burlesque, Expanded Cinema of the Mind, Alien Vaudeville, Spectacles of Failure, Stand-Up Tragedy, New-Age Jesters, Cosmic Troubadours, Psychedelic Bards, Beautiful Noise, Imploding Vinyl Escapable, Exotic Masquerade and more.
The performance space at 6119 Penn Ave. was founded and run by the directors behind VIA and the VIA Music & New Media Festival. Since opening in June 2012, 6119 has hosted more than 50 events that support progressive music, art and culture.

###