February 20, 2013
Photo Advisory: Carnegie Mellon Welcomes President-Elect Suresh Feb. 21
Contact:
Ken Walters / 412-268-1151 /
walters1@andrew.cmu.edu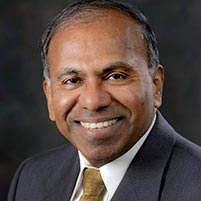 Event:
Carnegie Mellon University President-Elect Subra Suresh and his family will make their first public visit to the Pittsburgh campus since the
university announced Suresh would serve as its ninth president, effective July 1.
This introductory event will include remarks from Suresh, CMU President Jared L. Cohon and CMU Chairman of the Board of Trustees Ray Lane.
Suresh is currently the director of the National Science Foundation (NSF), a $7-billion independent government science agency charged with advancing all fields of fundamental science, engineering research and education. He previously served as the dean of the School of Engineering at the Massachusetts Institute of Technology (MIT) and is currently on leave as the Vannevar Bush Professor of Engineering at MIT while serving as director of NSF. He will succeed Cohon, who is stepping down from the position after 16 years.
During his visit, Suresh will meet with CMU faculty, staff and students. Due to his limited time on campus, Suresh will not be available for interviews.
When:
5 p.m., Feb. 21
Where:
McConomy Auditorium, University Center, Carnegie Mellon's Pittsburgh campus
Contact:
Ken Walters,
walters1@andrew.cmu.edu
, 412-268-1151; 412-480-4396 (cell)
###