February 11, 2013
Press Release: Two Carnegie Mellon Professors Elected Into Prestigious National Academy of Engineering
Contact: Chriss Swaney / 412-268-5776 / swaney@andrew.cmu.edu


PITTSBURGH-Carnegie Mellon University's Lorenz (Larry) T. Biegler and Jose M.F. Moura have been elected to the National Academy of Engineering (NAE), one of the highest professional honors an engineer can achieve.

Membership in the NAE honors people who have made important contributions to engineering theory and practice, and who have demonstrated unusual accomplishments in pioneering new and developing fields of technology. The two Carnegie Mellon faculty members join the current 2,250 NAE members and 211 NAE foreign associates.

"This is a well-deserved recognition of professors Biegler and Moura. We are extremely proud of their outstanding accomplishments and tremendously pleased to hear of their election. They are excellent examples of the innovative, hard-working and collaborative nature of our engineering faculty," said James H. Garrett Jr., dean of CMU's College of Engineering and the Thomas Lord Professor of Civil and Environmental Engineering.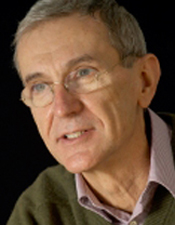 Both engineering professors are leaders in their respective fields, which span a variety of sectors, from pioneering work in computer-aided process engineering to groundbreaking research to extract relevant facts from large data sets ('Big Data'), to designing innovative algorithms for increasing the accuracy with which hard disk drive circuits read data from high speed magnetic disks.

Biegler, a University Professor and the Bayer Professor of Chemical Engineering, was elected to the academy for contributions in large-scale nonlinear optimization theory and algorithms for application to process optimization, design and control.

"This is a wonderful honor, and as a new NAE member I look forward to making contributions to the NAE and the engineering profession in the future," Biegler said. "This honor is another great way to showcase Carnegie Mellon and our unique place in solving some of the world's most pressing issues, through research that will lead to more efficient manufacturing processes, cheaper and cleaner energy, and better living," Biegler said.

Moura, director of the Carnegie Mellon/Portugal program and a University Professor of Electrical and Computer Engineering and Biomedical Engineering, was elected to the academy for contributions to the theory and practice of statistical signal processing.

"I am both pleased and proud to be honored by my peers with election to the NAE as I continue  with students and colleagues to pursue the challenges of making sense from the huge amounts of social, economic and hard data that inundate our everyday life, as well as carrying on my international and collaborative research and education efforts," Moura said.

In addition to Biegler and Moura, four alumni also were elected to the NAE. They include:

The NAE will honor their new members on Oct. 6 during the NAE national meeting in Washington, D.C.
For a complete list of CMU's NAE members, visit http://www.cmu.edu/news/rankings-awards/awards/professional-societies.shtml
For a complete list of this year's inductees, visit http://www8.nationalacademies.org/onpinews/newsitem.aspx?RecordID=02072013

###
Pictured above are Lorenz (Larry) T. Biegler and Jose M.F. Moura.