December 06, 2013
Media Advisory: Carnegie Mellon's Jendayi E. Frazer Reflects on Nelson Mandela
Contact: Shilo Rea / 412-268-6094 / shilo@cmu.edu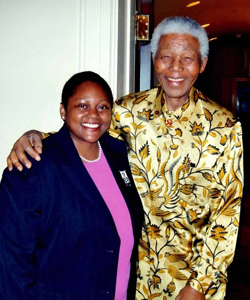 PITTSBURGH—Jendayi E. Frazer, Distinguished Service Professor at Carnegie Mellon University and former U.S. Assistant Secretary of State for African Affairs (2005-2009) and U.S. Ambassador to South Africa (2004-2005), offered the following statement on the death of Nelson Mandela.

"Today, the world mourns the loss of one of our greatest leaders, Nelson Rolihlahla "Madiba" Mandela. His spirit lives on forever in every freedom-loving and committed warrior of peace and justice.

Mandela not only changed the course of history for South Africa, but he left a legacy that can be appreciated by every person, from every country across the globe. He lived for 95 years in the service of oppressed South Africans and became a beacon of light that inspired freedom, peace and justice for people of all races, creeds and cultures.

Mandela's iconic status was forged during his years on Robben Island as a political prisoner and in the imagination of many of us who grew up knowing him from a single image taken during his incarceration. Madiba was a freedom fighter who acted with clarity of vision and the courage of his convictions. He has taught us the power of patience, perseverance, and humility; to be more than we even believe humanly possible.  His integrity as a leader elevates him among the truly great statesmen of our time.

I was fortunate enough to speak with him several times in 1999 while working at the National Security Council and first met Madiba two years later at the White House when he visited President George W. Bush in the Oval Office. As U.S. Ambassador to South Africa from 2004-2005, we saw each other several times, both in Africa and the U.S. He was a towering figure of great wisdom, humor and kindness, and meeting him left you uplifted and feeling that you've been in the presence of a saint, an evolved human spirit.

One of my proudest moments was helping to put the United States on the right side of history when, in July 2008, Mandela and his African National Congress (ANC) colleagues were removed by an act of Congress, with the urging of the executive, from the U.S. terror list that dated back to apartheid days of the 1980s.

I offer my sincere sympathy to Mandela's family and to South Africa. We, the entire human race, are infinitely better off because of his leadership, courage and strength. His legacy will continue to shine forever."
###
Pictured above is Jendayi Frazer and Nelson Mandela in 2005 at the White House.