December 05, 2013
Press Release: Carnegie Mellon's Burcu Akinci Co-Leads Team Developing Low-Flying Robots for Bridge Inspections
Contact: Chriss Swaney / 412-268-5776 / swaney@andrew.cmu.edu


PITTSBURGH—Inspecting bridges and other critical infrastructure may soon become a lot safer and more efficient.
Carnegie Mellon University's Burcu Akinci is co-leading a multidisciplinary research team charged with supporting bridge inspectors through the use of small autonomous aerial robots.
"The proposed work utilizes small flying robots, coupled with three-dimensional imaging and state-of-the-art modeling, analysis and visualization to develop safe and efficient assessment of structures," said Akinci, a professor of civil and environmental engineering at CMU and co-director of the Smart Infrastructure Institute (SII), an interdisciplinary research lab at CMU.
Akinci is working with project co-leader Sanjiv Singh and Daniel Huber, Sebastian Scherer and Nathanial Michael from the CMU Robotics Institute, and Jerome Haijar from the Civil and Environmental Engineering Department at Northeastern University.
Because current inspection methods for bridges, dams and other infrastructure are potentially dangerous, the team is developing an autonomous robotic inspection assistant. The goal is to improve the assessment of aging bridges and other critical infrastructure by combining human judgment with machine intelligence, advanced modeling and visualization approaches.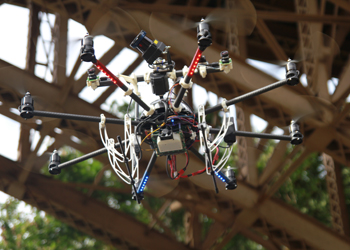 Akinci reports that this research complements work already underway through the SII in CMU's College of Engineering, which is conducting interdisciplinary research to help better manage critical infrastructure systems, such as buildings, power distribution networks, water and gas pipeline systems and other physical structures.
"This is important collaborative research as we work to create new technologies and more cost-effective approaches to maintaining the bridges, buildings and other infrastructure of the U.S. and the world," said David Dzombak, head of CMU's Department of Civil and Environmental Engineering.
Funding for the robotic rotorcraft and modeling tools came from a National Science Foundation (NSF) grant in a multi-agency effort designed to develop robots that can work with humans to extend and augment human skills.
###
Burcu Akinci (pictured above) is working with researchers from CMU's Robotics Insitute and with engineers at Northeaster University to create autonomous aerial robots, like the one above, that will make inspecting infrastructure safer and more efficient.