December 03, 2013
Press Release: Students Can Create Animations of Garfield the Cat With New Version of Carnegie Mellon's Alice Software
Comic Strip Character Helps Students Learn Programming Concepts
Contact: Byron Spice / 412-268-9068 / bspice@cs.cmu.edu



PITTSBURGH—Children who love Garfield, the feline star of the world's most widely syndicated comic strip, now can make their own computer animations of the lasagna-loving, Monday-adverse cat — and learn a bit about computer programming in the process — with the latest version of Carnegie Mellon University's Alice educational software.
Wanda Dann, director of the Alice Project, said the new release of Alice features Garfield, Odie, Jon, Nermel and other characters from the popular comic strip. She noted the latest release is geared to appeal to middle and high school students as teachers are increasingly requesting educational materials for computer science that are appropriate for that age group.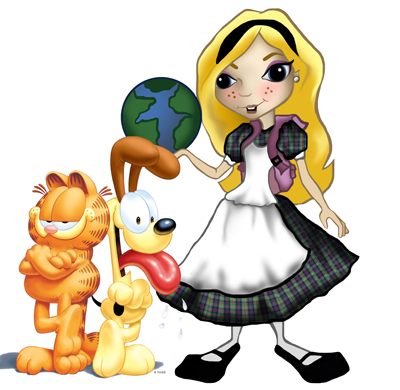 Like all versions of Alice, the newest, Alice 2.4, will enable novices to create animations using a simple drag-and-drop interface to select character objects, props and scenes from a large gallery of 3D models. Alice 2.4 joins Alice 3.1, a version of Alice that is primarily geared to students in higher-grade levels and in universities. Alice 3.1 contains the Sims2 characters, donated by Electronic Arts, and has options that support transition to the Java programming language.
A video of Garfield and Odie (above) created with Alice 2.4 is available on YouTube at http://youtu.be/oqYAs1e1dD4.
Carnegie Mellon makes the free software available for download at www.alice.org. Eventually, the Alice materials also will be accessible through the Professor Garfield Web portal, which provides a variety of educational games and materials. A one-hour introductory exercise featuring Alice 2.4 has been developed for the Hour of Code, a project during Computer Science Education Week, Dec. 9-15, and will be available at http://code.org/.
Permission to add the Garfield characters to Alice was provided to the Alice developers through an agreement with Paws Inc., the company founded by cartoonist Jim Davis that manages the corpulent kitty's creative and business concerns. Garfield & Friends, created by Davis in 1978, appears in more than 2,100 newspapers worldwide and is read daily by 200 million people.
"Alice is used in classrooms around the globe, so we appreciate the influence an internationally recognized character such as Garfield has on school children," Dann said. "It says a lot about Jim Davis and Paws Inc. that they are willing to share these beloved and valuable characters with Alice. It means they really care about children and their education."
Education is a shared goal of Garfield and Alice, but so is fun. The late Randy Pausch, a CMU computer scientist famous for his inspirational "Last Lecture," led the development of Alice. He was convinced that students could learn something really hard, such as programming, by doing something really fun, such as creating computer animations with Alice.
Alice is used in more than 15 percent of colleges and universities and has become a popular teaching tool in secondary schools. Teachers in more than 30 countries now use Alice in their classrooms.    Alice 2.4, with its Garfield characters and its menagerie of additional characters and props, is expected to be useful in introducing younger students to concepts of computer programming and computational thinking, Dann said.
Continued development of the Alice programming environment has been supported by grants from Oracle and the National Science Foundation.
Follow Carnegie Mellon's School of Computer Science on Twitter @SCSatCMU.

###