December 02, 2013
Press Release: Carnegie Mellon's Metin Sitti Named IEEE Fellow
Contact: Chriss Swaney / 412-268-5776 / swaney@andrew.cmu.edu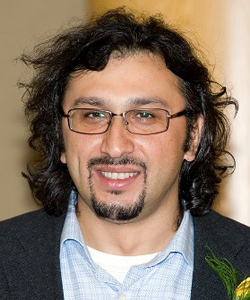 PITTSBURGH—Carnegie Mellon University's Metin Sitti has been named a fellow of the Institute of Electrical and Electronics Engineers (IEEE) for outstanding contributions to micro- and nano-scale robotic systems.
"This is a wonderful honor as I continue to develop novel microrobots - robots smaller than the width of a human hair," said Sitti, director of the NanoRobotics Lab at CMU and a professor of mechanical engineering.
The medical field is very interested in these tiny robots for health care, and the Department of Defense is interested in highly sensitive sensors created by Sitti's nano-engineering.
The IEEE is the world's largest professional association dedicated to advancing technological innovation and excellence for the benefit of humanity. Through its 400,000 members in 160 countries, the IEEE is a leading authority on a wide range of areas ranging from aerospace systems, computers and telecommunications to biomedical engineering, electric power and consumer electronics. The IEEE Board of Directors awards the rank of fellow to a person with an outstanding record of accomplishment in any of the IEEE fields.
"The recognition is well deserved by such a creative and innovative professor," said Allen L. Robinson, head of CMU's Department of Mechanical Engineering and the Raymond J. Lane Distinguished Professor of Mechanical Engineering. "Professor Sitti is a great example of our leading-edge, problem-solving environment."
Sitti is using his work with geckos to inspire new methods to print electronics on complex surfaces. Along with a team of researchers, Sitti developed a reversible adhesion method for printing electronics on a swath of complex surfaces, such as clothing, plastics and leather. The team designed a square polymer stamp with pyramid micro-tips that allows them to control adhesion strength. Like geckos, which are wizards at sticking to any kind of surface, the new polymer stamp features a distinctive adhesive quality.
Dedicated to the advancement of technology, the IEEE publishes 30 percent of the world's literature in the electrical and electronics engineering and computer science fields, and has developed more than 900 active industry standards.
           
###
Metin Sitti (pictured above) is being recognized for his outstanding contributions to micro- and nano-scale robotic systems, which can be used to benefit health care and national security.