December 02, 2013
Press Release: Carnegie Mellon's Jimmy Zhu To Head New Research Center With Sun Yat-sen University
Contact: Chriss Swaney / 412-268-5776 / swaney@andrew.cmu.edu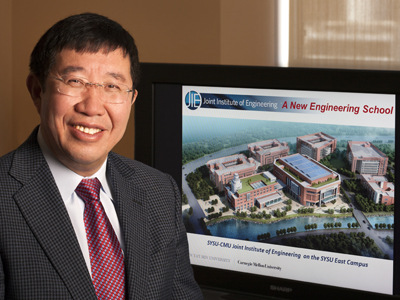 PITTSBURGH—Carnegie Mellon University's Jimmy Zhu is leading a new collaborative research center between Carnegie Mellon University and Sun Yat-sen University (SYSU) designed to help the world's most populous country become more entrepreneurial.
"We are working to change the educational paradigm in China with this new CMU-SYSU Collaborative Innovation Research Center, which complements our recent announcement of a joint graduate engineering program in China," said Jimmy Zhu, the ABB Professor of Engineering and head of CMU's Data Storage systems Center (DSSC) who is co-heading the CMU-SYSU Joint Institute of Engineering (JIE).
China's economic performance remains the envy of the Western world. SYSU is located 100 miles northeast of important trade and economic centers like Hong Kong and Macau, giving it access to the Asia-Pacific regions most vital business hubs.
"CMU's engineering faculty are well known for our top-ranked research and education efforts. We have a very successful record of collaborating with international partners, and sharing our expertise in producing leaders and improving the daily lives of people," Zhu said. "CMU is also an engine of economic growth, and we want to instill that kind of entrepreneurial spark in China."
In 2013, 36 new startup companies were created at CMU – a record for the university and a major economic milestone for the Pittsburgh region.
Zhu and his CMU colleagues hope to share some of that collaborative research energy with the new CMU-SYSU research center. The research areas will include big data, medical applications, the smart power grid, autonomous driving, nano devices and embedded systems security.
For Ming Li, who grew up in China's former capital city of Nanjing, the opportunity to teach and do research in his homeland is a professional bonus.
"I'm going to get to experience the best of both worlds," said Li, an assistant professor in the Joint Institute of Engineering at SYSU. His research spans a broad health arena from multimodal biometrics, including speech and body sensing, to human behavior signal processing.
CMU's relationship with China is longstanding, and the university has nearly 500 alumni in China. In 1919, the university granted the first Ph.D. in civil engineering to Mao Yisheng, a pre-eminent engineer who designed China's two most famous bridges - the Qiantang River Bridge near Hangchow and the Yangtze River Bridge at Wuhan.
For more information about the CMU-SYSU program and research center, see http://www.ece.cmu.edu/programs-admissions/masters.
###
CMU's Jimmy Zhu (pictured above) says the new research center will work to change the educational paradigm in China.