December 12, 2013
Press Release: Carnegie Mellon Receives $10 Million from The Heinz Endowments For H. John Heinz III College Building Expansion, Renovations
Contacts: Abby Simmons / Carnegie Mellon / 412-268-4290 / abbysimmons@cmu.edu
                Carmen Lee / The Heinz Endowments / 412-338-2628 / clee@heinz.org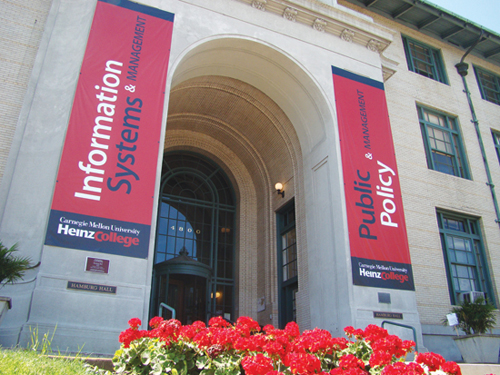 PITTSBURGH—Just weeks after announcing plans to establish a new academic hub, Carnegie Mellon University will further transform its Pittsburgh campus through a gift from The Heinz Endowments.
The $10 million gift will allow the university to renovate and expand Hamburg Hall, home to its H. John Heinz III College. Continuing the university's momentum in transforming the Forbes Avenue corridor, the gift will provide funds for the construction of new facilities, including new collaborative student project space and an auditorium. Hamburg Hall sits across the street from where the new Tepper Quadrangle, established by a gift from David Tepper's charitable foundation, will be located along Forbes Avenue.
"We are deeply grateful to the Endowments and the Heinz family for providing this transformational gift, one that will help us strengthen the Heinz College in its vitally important work at the intersection of information technology, public policy and management," said CMU President Subra Suresh. "In a world that is evermore connected and increasingly dependent on information technology and organizational solutions, which cross political, disciplinary and cultural boundaries, Heinz College faculty and graduates are making essential contributions. This visionary gift will build on those capabilities for the next generation."
The university supported the initial phase of renovations for Hamburg Hall. The new funds will enable CMU to expedite the final architectural designs of Phase II of the project, finalize necessary construction planning, commence additional renovations and expansion, and complete a structure that will add value to the college.
"It is a privilege for the Endowments to support this nonpareil institution, whose students and faculty, as a regular part of their demanding academic regimen, collaborate in finding creative solutions to the most difficult social and economic challenges facing our region," said Robert Vagt, president of The Heinz Endowments.
The Endowments has been instrumental in helping the Heinz College build many of its important programs and in hiring talented faculty to advance research and education. A recent research initiative is CMU's Traffic21, which uses technology to develop and deploy efficient, cost-effective transportation solutions, such as "smart" traffic signals that improve travel time and reduce vehicle emissions. Another initiative receiving support is PROGRESS, a program to help women and girls develop better negotiating skills for success in life.
Originally launched in 1968 as the School of Urban and Public Affairs, the Heinz College was renamed the H. John Heinz III School of Public Policy and Management in 1992 in recognition of the late Sen. Heinz's legacy of working across political divides to promote greater good for society. In 2008, the school received $13 million from The Heinz Endowments to establish the Heinz College, which launched a new School of Information Systems and Management in addition to a School of Public Policy and Management.
"This latest gift by The Heinz Endowments is vital to our ability to accommodate the increasing number of talented students who want to attend the Heinz College," said Ramayya Krishnan, dean of the Heinz College and the William W. and Ruth F. Cooper Professor of Management Science and Information Systems. "This wonderful gift will allow the college to facilitate collaborative research and learning in our areas of focus, and pursue new opportunities that technology and global collaborations are making possible."     
Offering master's degrees and doctoral programs exclusively, Heinz College student enrollment has increased from 1,135 in 2008 to 1,518 in 2013 — a 30 percent increase. According to U.S. News & World Report, the Heinz College houses the top-ranked program for information technology and management and the seventh-ranked program for public policy analysis. The National Research Council ranked the Heinz College's doctoral programs in public policy among the top five in the U.S.
     
###
The gift will provide funds for the construction of new facilities in Hamburg Hall (pictured above), including new collaborative student project space and an auditorium.