December 11, 2013
News Brief: Garlan Named ACM Fellow
2013 Fellows List Includes Three Ph.D. Alumni
By Byron Spice bspice(through)andrew.cmu.edu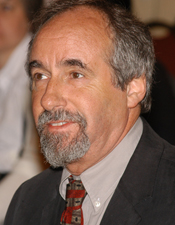 David Garlan, a professor in the Institute for Software Research, is among 50 innovators from the world's leading universities and corporations named by the Association for Computer Machinery (ACM) as 2013 Fellows. The list also includes three additional Carnegie Mellon Ph.D. alumni: James Gosling, Greg Morrisett and Milind Tambe.
"We recognize these scientists and engineers, creators and builders, theorists and practitioners who are making a difference in our lives," said Vinton G. Cerf, ACM president. "They're enabling us to listen, learn, calculate and communicate in ways that underscore the benefits of the digital age."
Garlan, who earned his Ph.D. in computer science at CMU in 1987, was cited "for contributions to the development of software architecture as a discipline in software engineering."
The citation for Gosling, a 1983 grad, was "for Java, NeWS, Emacs, NetBeans, and other contributions to programming languages, tools and environments." A long-time Sun Microsystems staff member, he is now with the startup Liquid Robotics.
Morrisett (CS'95), of Harvard University, was cited "for contributions to mathematically based methods for ensuring the efficient implementation and verification of practical programming languages."
Tambe (CS'91), of the University of Southern California, was cited "for contributions to theory and practice of multi-agent systems, teamwork and security games."
The ACM will formally recognize the 2013 Fellows at its annual awards banquet June 21 in San Francisco.