August 22, 2013
Press Release: Carnegie Mellon Parking Study Inspires New Street Signage, Adjusts Parking Rates
Commuters Can More Easily Identify "Premium" and "Economy" Parking Areas
Contact:
Mark Burd / 412-268-3486 /
mdburd@andrew.cmu.edu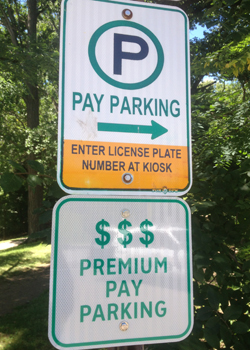 PITTSBURGH—Street signage differentiating "premium" and "economy" parking has been added to several streets adjacent to the Carnegie Mellon University campus in conjunction with a parking study being conducted by two faculty members at CMU's
Tepper School of Business
in cooperation with the City of Pittsburgh.
The signage coincides with the most recent adjustment in parking rates, identifying Tech and Frew streets as "premium" parking at an hourly rate of $2.25, and classifying Margaret Morrison Street and part of Schenley Drive as "economy" parking at a rate of 50 cents per hour.  
The parking study is being directed by
Stephen Spear
, professor of economics, and
Mark Fichman
, associate professor of organizational behavior and theory. The research, which got underway this past January, involves periodic adjustments of hourly parking rates on four streets, based on usage, and is expected to continue through the end of 2013.
"The objective of our study is to use fundamental economic principles to find the optimum parking rates for each of these areas, balancing regular commuter usage with overall parking revenue," Spear said. "Street parking is a commodity and the marketplace will define the relationship between cost and demand. 
"If rates are too low, parking availability will be scarce, with low turnover throughout the business day," he added. "This creates a competition among commuters for parking spaces early in the day and presents real challenges throughout the day for individuals who need to park for an hour or two in order to attend a class, meeting or even make a delivery. On the other hand, rates that are too high will cause all drivers to avoid using these parking areas, which underutilizes a resource and ultimately lowers revenue. In the past, we have seen both of these extremes involving these particular streets," Spear said.
The study seeks to let the marketplace identify hourly rates at which parking spaces are more than three-quarters full during regular business periods. This establishes a reasonable level for usage and revenue while allowing for some parking availability throughout the business day.
"The city's new pay-by-license plate multi-space meters have made the process of periodically adjusting parking rates feasible," Fichman said. "And this technology presents future opportunities in fine-tuning parking rates. We have now documented the ebb and flow of daily, weekly and seasonal fluctuations in parking, along with the impact that hourly rates have on usage. As CMU's classes begin next week, we are entering into a new data period for our research, which will impact the next rate adjustments.
"We appreciate the cooperation of the city on this project. We are confident the outcomes will be beneficial for all of the stakeholders involved with parking around CMU," Fichman said.
###
Street parking along Tech and Frew streets have been identified as "premium" spots (signage pictured above) with an hourly rate of $2.25, while spots along Margaret Morrison Street and part of Schenley Drive have been classified as "economy" parking at a rate of 50 cents per hour.