April 08, 2013
Press Release: New Indie Film To Be Screened at Carnegie Mellon
School of Drama Alumni Return To Showcase Latest Project
Contacts: Dennis Schebetta / 412-268-2068 / dschebetta@andrew.cmu.edu
Pam Wigley / 412-268-1047 / pwigley@andrew.cmu.edu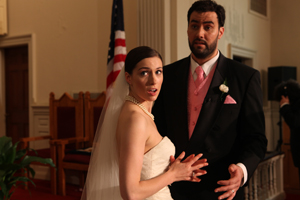 PITTSBURGH—"Breakup at a Wedding," a new independent film by Carnegie Mellon University School of Drama alumni Zachary Quinto (A'99), Neal Dodson (A'00), Corey Moosa (A'00) and Victor Quinaz (A'00) will be screened at 4:30 p.m., Tuesday, April 16, in the University Center's McConomy Auditorium on the Pittsburgh campus.

Following the screening, several members of the cast and production company will participate in a Q&A session with the audience. The lone screening is open to the public.

Tickets are limited, so advance purchase is recommended. Admission is $10 or $5 with a valid CMU ID. Tickets can be purchased from noon to 5 p.m., Monday through Friday, at the Purnell Center Box Office (412-268-2407). Advance tickets can be purchased with cash, check, Visa or MasterCard. Tickets purchased at the door must be paid with cash or check only. All proceeds will go to the Senior Showcase Fund for students graduating from the School of Drama this year.
Dodson, the producer of the film, said he and the others chose to do a screening at Carnegie Mellon because of their ties to the university and their desire to raise funds for Senior Showcase, which helps graduating School of Drama students promote their skills to talent scouts, agents and other entertainment industry professionals on the West Coast and East Coast.
"With so many of us having some affiliation with Carnegie Mellon and Pittsburgh," he said, "it seemed natural for us to do a screening on campus. We're doing an old-fashioned college tour, and Carnegie Mellon was at the top of our list."
"Breakup" is a romantic comedy that features Alison and Phil on the eve of their wedding. Alison gets cold feet and decides to break off the wedding, but rather than face the embarrassment of calling off the ceremony, she suggests to Phil that they proceed with a sham wedding. Phil is more than game, as he's secretly hoping a surprise gift he has for Alison will ultimately change her mind. Yet once the guests begin to arrive, more complications ensue than either of them could have ever imagined ... and it's all caught on tape by their wedding videographer.
Quinaz directed the film and it was produced by Quinto, Dodson and Moosa's Before The Door Pictures, a production company that also made "Margin Call" and "All Is Lost." The cast features several CMU Drama alumni, including the aforementioned Moosa and Quinaz, as well as Michael Lidondici (A'00), Brian Shoaf (A'01), Sian Heder (A'99) and Haj Chenzira-Pinnock (A'02).
"Breakup" was made by PERIODS.Films (http://www.PERIODSfilms.com), created by Quinaz and his wife Anna Martemucci. PERIODS is a collective of comedians in New York City that has gained attention through its successful series of "anachronistic and hilarious short films," according to media outlets like the Los Angeles Times and Entertainment Weekly. The film runs just under 90 minutes and will be distributed by Oscilloscope Labs on VOD and all digital platforms June 18 with a limited theatrical presence to follow.
     
###
Seen through the lens of an unduly ambitious wedding videographer (played by director Victor Quinaz), "Breakup at a Wedding" gives us the nuptials of Alison Jones (Alison Fyhrie) and Phil Havemeyer (Philip Quinaz, the director's real-life younger brother) in all of its sprawling, messy and often wildly inebriated glory.