April 24, 2013
Media Advisory: Carnegie Mellon Co-Presents AfricAméricas Week To Explore Afro-Latin Culture, History and Arts
Contact:
Shilo Rea / 412-268-6094 /
shilo@cmu.edu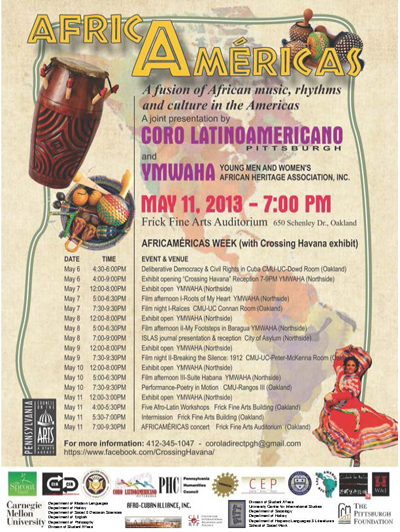 Event:
Carnegie Mellon University will co-present
AfricAméricas Week
, a series of events to explore racism in Cuba and Afro-Latin culture, history and the arts. The activities, including presentations, films, dance workshops and performances, will give the Pittsburgh community a chance to learn both historical and contemporary perspectives of Afro-Cuban and Afro-Latin life.
"The photo exhibit's focus on civil rights in Cuba, and the entire week's Afro-Latin American theme -through literature, film, music, dance, spoken word and song - is intended to bring national and international attention to issues of racism and discrimination in Cuba, the work of grassroots, civil rights organizations there, and the role of culture - broadly defined, in resistance and social change throughout Afro-Latin America," said
Kenya Dworkin
, associate professor of Hispanic Studies in CMU's
Dietrich College of Humanities and Social Sciences
and executive director of
Coro Latinoamericano-Pittsburgh
.
AfricAméricas Week is a collaboration between Carnegie Mellon, Coro Latinoamericano-Pittsburgh, the Afro-Cuban Alliance, Inc., Citizen's Committee for Racial Integration in Cuba, and the Young Men & Women's African Heritage Association in Pittsburgh.
"Ultimately, the goal of this collaboration is to bring together two distinct cultural and educational organizations and diverse audiences to promote the benefits of exploring not only innovative partnership but also to raise awareness of our unique shared cultural heritages," Dworkin said.
Event highlights include:
Conversation on Deliberative Democracy & Civil Rights in Cuba: CMU's Robert Cavalier, teaching professor of philosophy and co-director of the Program for Deliberative Democracy, will join Cuban scholar-activists Juan Antonio Madrazo, Leonardo Calvo Cardenas, Manuel Cuesta Morua, Rafel Campoamor and Juan Antonio Alvarado for an informed deliberation on racial integration in Cuba.
Crossing Havana, a social documentary photo exhibit about current living conditions for many black Cubans in Havana, will be on display. The photos were taken by Madrazo, a black, Cuban civil rights activist who also is the national coordinator of the Comité Ciudadanos por la Integración Racial (Citizens' Committee for Racial Integration), the island nation's premier, independent, civic organization devoted to fighting racism, discrimination and civic disengagement.
"Roots of My Heart," a 2001 film by Gloria Rolando that features Mercedes, a Cuban woman from Havana who begins to decipher her family secrets through a photo of her great-grandparents, will be shown as will several other films.
Five Afro-Latin workshops will be held for children, teens and adults on Afro-Cuban arts, crafts, music, dance and language.
Coro Latinoamericano-Pittsburgh will celebrate Afro-Latin American music with a concert of choral singing and dance performances.
For a full schedule of events, visit
https://www.facebook.com/CrossingHavana
.
Sponsors of the event include the Pittsburgh Foundation; Sprout Fund; Pennsylvania Humanities Council;  Pennsylvania Council on the Arts; City of Asylum; Carnegie Mellon University's departments of Modern Languages, History, Social & Decision Sciences, English, Philosophy, and Student Affairs as well as CAUSE and the Center for Ethics and Policy; the University of Pittsburgh's Center for Latin American Studies, University Center for International Studies, School of Social Work and the departments of Sociology, History, and Hispanic Languages & Literatures; Washington & Jefferson College; and the Young Men & Women's African Heritage Association in Pittsburgh.
When:
May 6-11
Where:
Various locations throughout Pittsburgh.
Cost:
All events are free and open to the public; some events require pre-registration.
Schedule:
For a full schedule of events and pre-registration information, visit
https://www.facebook.com/CrossingHavana
.
###