April 22, 2013
Media Advisory: Carnegie Mellon's Alex John London To Speak at Presidential Commission for Study of Bioethical Issues Meeting, April 30
Contact:
Shilo Rea / 412-268-6094 /
shilo@cmu.edu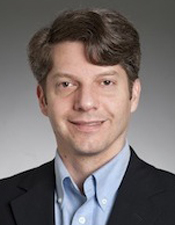 Event:
Carnegie Mellon University's
Alex John London
, an internationally renowned expert on research ethics, will speak at the
Presidential Commission for the Study of Bioethical Issues
meeting.
The commission is holding the meeting to inform the
National Committee on Vital and Health Statistics
how the research community can use data to improve health care. The focus will be on ethical issues raised by incidental findings - or discoveries made that are secondary to the reason a particular test, procedure or examination was conducted.
London, professor of
philosophy
in CMU's
Dietrich College of Humanities and Social Sciences
and director of the
Center for Ethics and Policy
, will address the obligations that researchers owe to study participants and the obligations clinicians owe to their patients.
"If a patient has their blood drawn for a routine test and something unexpected shows up, it is reasonable to expect that patient's clinician to follow up on those findings," London said. "But what should happen when someone volunteers to participate in a neuroscience experiment, run by a Ph.D., and a brain scan that was never intended to be used for diagnostic purposes reveals something that doesn't look quite right? The goal is to find norms that will ensure that people are warned of possible threats to their welfare without asking researchers to assume a role that they don't have the training or expertise to fulfill."
Additional participants at the meeting include Ruth Schwartz Cowan, the Janice and Julian Bers Professor Emerita of History and Social Science at the University of Pennsylvania;
Robert C. Green
, associate professor of medicine at the Brigham and Women's Hospital and Harvard Medical School;
Mildred Cho
, associate director and professor of pediatrics at Stanford University's Center for Biomedical Ethics;
Peter Bandettini
, chief of the section on functional imaging methods at the National Institute of Mental Health's Laboratory of Brain and Cognition; and
Haavi Morreim
, professor of internal medicine at the University of Tennessee Health Science Center.
London studies foundational issues in human research, issues of transnational social justice and methodological issues in theoretical and applied ethics. His research focuses on medical ethics, including the ethics of modern medicine, contested surgeries and innovative surgeries and the use of statistical methods in medical research; international research ethics; conducting human research in the context of a public health emergency; the involvement of prisoners in medical research; and the risk and clinical research studies. He is an elected
Fellow of the Hastings Center
and a recipient of the Distinguished Service Award from the American Society of Bioethics and Humanities (ASBH) and a New Directions Fellowship from the Andrew W. Mellon Foundation.  
For more information on London, visit
http://www.hss.cmu.edu/philosophy/faculty-london.php
.
When:
9 a.m., Tuesday, April 30
Where:
Hamilton Crowne Plaza 1001 14th Street, NW Washington, D.C. 2005
Live Webcast:
http://www.tvworldwide.com/events/bioethics/130430/
Carnegie Mellon's Alex John London, pictured above, will address the obligations that researchers owe to study participants and the obligations clinicians owe to their patients.