April 17, 2013
Press Release: Carnegie Mellon School of Drama Presents Modern-Day "Romeo & Juliet," April 27 - May 4
Contacts: Dennis Schebetta / 412-268-2068 / dschebetta@andrew.cmu.edu
Pam Wigley / 412-268-1047 / pwigley@andrew.cmu.edu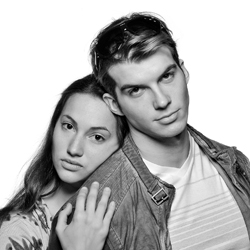 PITTSBURGH—The Carnegie Mellon University School of Drama will present William Shakespeare's "Romeo & Juliet" in the Philip Chosky Theater of the Purnell Center for the Arts on CMU's Pittsburgh campus. All shows begin at 8 p.m. with additional 2 p.m. matinees on April 27 and May 4.
This production of the classic play is geared toward a young audience. Directed by Don Wadsworth, professor of voice and speech in the School of Drama, Shakespeare's most-beloved romantic tragedy comes to life in a brutally modern American setting amidst civil unrest and street brawls. Despite the violence, two star-crossed lovers find sanctuary in each other while an ancient family feud broils around them.
"It's a timeless story, really," Wadsworth said. "Love, loyalty and sensuality have been part of our lives forever. Our take on this 400-year-old love story will surprise even the most rabid Romeo and Juliet fans. The other point that sets this production apart is our use of 30 actors in the company, and we use them all to build the contemporary setting of this show."
During the past decade, others have approached the play with a modern take, including The Royal Shakespeare Company and Baz Luhrmann, director of the 1996 film starring Leonardo DiCaprio and Claire Danes. CMU's production places its characters in both a gritty urban setting and an idyllic suburban neighborhood, with fight scenes (choreographed by Randy Kovitz, an alumnus and professional choreographer) that realistically depict the battles many teens face today in their communities and at school.
Music and video production also lend a "hipper vibe" to this show than one might normally expect, Wadsworth said. He hopes the younger demographic will come out to see the tale of teen angst and realize there is a classic piece of literature that can be translated to today's society.
Helping to spread the word among teenagers and in keeping with the School of Drama's commitment to community outreach, Carnegie Mellon will continue its tradition of offering a free matinee performance for high school students at 10 a.m., Friday, May 3. Following the show, the students are encouraged to stay for a post-performance discussion to ask questions of the production team, including the cast of graduating students in CMU's internationally renowned Acting/Music Theatre program. About 300 students from eight local high schools are expected to attend.
Tickets for general performances may be purchased online at www.drama.cmu.edu, at the Box Office in the Purnell Center Lobby or by phone at 412-268-2407. Visa and MasterCard are accepted.

###
Pictured above are seniors Grace Rao and Adam Hagenbuch, who portray star-crossed lovers in modern times in Carnegie Mellon School of Drama's "Romeo & Juliet."