April 16, 2013
Press Release: Carnegie Mellon School of Art POP Cabaret Presents "SPRUNG," April 26
Contacts: Lauren Goshinski / School of Art / 412-268-1533 / laurengo@andrew.cmu.edu
Pam Wigley / Media Relations / 412-889-6238 / pwigley@andrew.cmu.edu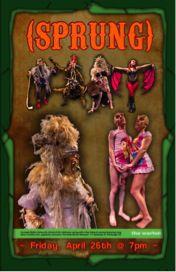 PITTSBURGH—You'll laugh, you'll cry, you'll be astonished!
Undergraduate students enrolled in the Carnegie Mellon University School of Art's POP Cabaret course present "SPRUNG," a variety show in two acts, featuring Leda n da $wan, tragedy, comedy, Private Eyes, synchronized dance routines, Gods and Monsters, elaborate costumes, trickery and mysterious pageantry!
The show begins at 7 p.m., Friday, April 26, at the Andy Warhol Museum. Attendees must be 18 years of age or older. Admission is free.
Led by Associate Art Professor Suzie Silver, who also performs in the show, the course meets weekly at the museum, where students use the theater as a playground and performance space to create short solo and group performances. This is the second semester the museum has hosted POP Cabaret in partnership with the School of Art.
Performers are Reese Adams-Romagnoli, Adelaide Agymang, Scott Andrew, Michael Bennett, Christin Bongiorni, Lauren Faigeles, Claire Gustavson, Katie O'Connor, Justin Old, Sam Poulos, Caroline Record, Adriana Rodriguez, Stephanie Ross and Silver.
POP Cabaret explores performance strategies and themes spanning Camp, Lo-Fi Glamour, Neo-Burlesque, Expanded Cinema of the Mind, Alien Vaudeville, Spectacles of Failure, Stand-Up Tragedy, New-Age Jesters, Cosmic Troubadours, Psychedelic Bards, Beautiful Noise, Imploding Vinyl Escapable, Exotic Masquerade and more.

###