April 15, 2013
News Brief: NY Times Poetry Chronicle Calls Carnegie Mellon University Press' "Birds of the Air" "Impressive"
Contact:
Shilo Rea / 412.268.6094 /
shilo@cmu.edu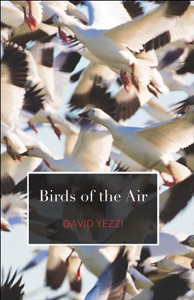 The New York Times Poetry Chronicle
reviewed
"Birds of the Air,"
the latest book of poems published by
Carnegie Mellon University Press
, and called it "impressive."
Written by CMU alumnus
David Yezzi
(A'88), "Birds of the Air" mixes "charged lyrics with longer dramatic narratives." The 24 poems cover topics pertaining to urban life.
Reviewer Matthew Brennan said Yezzi "ranks among our best formalists" and "embraces a span of times, subjects and styles: cutting humor ("Cough"); elegies (for Tom Disch and Rachel Wetzsteon); satire and self-irony ("High to Low"); personal love poems ("This Is My Proof") and light verse ("Pals")."
Gerald Costanzo
, director and founder of CMU Press, said, "'A poem begins in delight' said Robert Frost, 'and ends in wisdom.' David Yezzi accomplishes this in every poem in his new book."
Carnegie Mellon University Press was founded in 1972 as a publisher of poetry. The Press has since evolved into a highly regarded publisher of poetry, classic contemporaries, short fiction and regional social history. Among the press' most notable achievements is publishing poet Rita Dove's Thomas and Beulah in 1986, which was awarded the Pulitzer Prize the following year. In 2009, the press released
"The Paris of Appalachia: Pittsburgh in the Twenty-first Century,"
a book by Pittsburgh Post-Gazette columnist Brian O'Neill, which became the
fastest-selling book in CMU Press history
.
Read the full NY Times review at
http://www.nytimes.com/2013/04/14/books/review/womens-poetry-by-daisy-fried-and-more.html?_r=1
.
Buy "Birds of the Air" at
http://www.amazon.com/Birds-Carnegie-Mellon-Poetry-Series/dp/0887485715
.