April 11, 2013
Press Release: Carnegie Mellon's School of Drama To Celebrate Drama Professor Barbara Anderson
Distinguished Designer in Film, Theatre and TV To Be Honored During CMU's Carnival Weekend
Contacts: Pam Wigley / 412-268-1047 / pwigley@andrew.cmu.edu
Dennis Schebetta / 412-268-2068 / dschebet@andrew.cmu.edu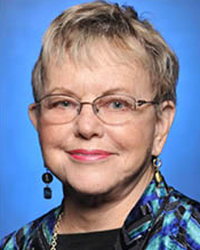 PITTSBURGH—Carnegie Mellon University's School of Drama will celebrate the work of distinguished designer and professor Barbara Anderson from 5 - 6:30 p.m., Saturday, April 20, in the Purnell Center for the Arts Lobby on CMU's Pittsburgh campus. The public is invited to the reception, which recognizes Anderson's contributions to Carnegie Mellon during her distinguished career of more than four decades.
A professor of costume design and costume construction in the School of Drama, Anderson has been instrumental in the creative development of generations of designers for the entertainment industry and is the co-author, with her husband Cletus, of the textbook "Costume Design." She has had a prolific design career, having designed costumes for film, television, opera and theater. During her career, Anderson received the university's Ryan Award for excellence in teaching and the Hornboestel Award for excellence in teaching in the College of Fine Arts.
"Her longevity and impact on the field of design in theatre, film and television has made her a remarkable talent in the pantheon of great American designers," said Peter Cooke, professor and head of the School of Drama.
Anderson has worked extensively in the film and television industries. She was the costume designer for CMU alumnus George Romero's "Creepshow," "Day Of The Dead," "Monkeyshines" - the remake of "Night Of The Living Dead" and several others. For PBS, she designed costumes for the American Playhouse film "The Silence At Bethany," the Emmy Award-winning "Leatherstocking Tales," the 12-part "Decades of Decision," and the "Once Upon a Classic" series, among others.
She created specialty costumes for "Mister Rogers' Neighborhood," particularly his original operas, and for historical films for the city of St. Augustine, Fla. Recently, she created historical costumes for the John Heinz Regional History Center, clothing notables such as Andrew Carnegie, H.J. Heinz and George Washington. She also was on the accrediting team for the Hong Kong Academy School of Theatre Arts.
"Barbara's wisdom as our recent past associate dean and her institutional guidance have been so valuable to the faculty and staff of the School of Drama," said Susan Tsu, CMU professor of costume design. "We all have benefitted and grown from her advice along the way."
Many distinguished designers, mostly alumni of the School of Drama, will return to their alma mater to pay homage to Anderson during CMU's Spring Carnival Weekend (April 18-21). Those returning include Emmy Award-winning production designers John Shaffner and Joe Stewart of Los Angeles. Both learned under Anderson's tutelage.
"Barbara's influence on costume design, and designers in general in the spheres of theatre, film and television, cannot be underestimated. In fact, several generations of designers can trace roots to Barbara through education and professional associations leading to two degrees of separation from every practitioner of these arts in the United States and even abroad," said Shaffner, production designer for hit shows like "Mike and Molly" and "Big Bang Theory."
Stewart concurred. "If you were lucky enough to be one of her students, you practice, carry forward and pass along the traditions of Barbara's teachings. Her passion and caring from the first day you started a class or worked for her follows you as you move into your career."
Anderson's students currently teach at several renowned universities, including Columbia University, North Carolina School for the Arts, UCLA, Boston University, University of Michigan, Hofstra and the University of Singapore.
"Generations of students point to the influence Barbara has had on their careers and lives as being pivotal. Barbara also has been an extraordinary teaching mentor for countless CMU teachers, like myself, who have benefited greatly from her guidance and giving spirit," said Anne Mundell, associate professor of design, who has worked alongside Anderson for 25 years.
     
###