September 06, 2012
Press Release: Cassell To Receive Geschke HCII Directorship During Sept. 10 Ceremony at Carnegie Mellon
Adobe Systems Co-founder and CMU Alumnus Creates Endowment
Contact:  Byron Spice / 412-268-9068 / bspice@cs.cmu.edu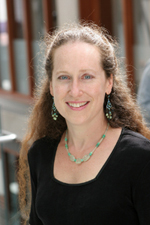 PITTSBURGH—Justine Cassell will formally receive her appointment as the Charles M. Geschke Director of the Human-Computer Interaction Institute (HCII) during a Sept. 10 ceremony at Carnegie Mellon University. The director's post has been newly endowed by Charles M. Geschke, a CMU alumnus and co-founder of Adobe Systems Inc., and his wife, Nancy.
Cassell has been director of the HCII since 2010. Under terms of the endowment, announced earlier this year, she and each succeeding HCII director automatically receive appointments as the Geschke Director.
Mr. and Mrs. Geschke will attend the celebration of the Geschke Directorship from 4 to 6 p.m. Sept. 10 in the Asian Students Association Conference Room (6115) in the Gates and Hillman centers. Mr. Geschke received his Ph.D. in computer science at Carnegie Mellon in 1973.
Geschke co-founded Adobe Systems in 1982 with John Warnock, creating software that helped launch the desktop publishing revolution and establishing a company that remains a leader in software and technologies for communications and collaboration. An influential leader in the software industry for more than 35 years, Geschke is the recipient of the 2010 Marconi Prize, the equivalent of the Nobel Prize for the field of information technology. In 2009, President Barack Obama awarded him the National Medal of Technology and Innovation.
Cassell's research focuses on computational systems that use conversation and storytelling to enhance learning and communicative skills in humans. She developed the Embodied Conversational Agent (ECA), a virtual being capable of interacting with humans using both language and nonverbal behavior. She has since investigated the role of ECAs as a virtual peer for children, providing support for language learning, literacy, social skills and science fluency. She also has examined how this technology can be used with autistic children.
Her honors include the Anita Borg Institute's Women of Vision Award for significant contributions to technology. Cassell spoke about her research at the World Economic Forum in Davos last January, and is currently the chair of one of the World Economic Forum Global Agenda Councils.
The HCII explores such topics as technology design and usability, educational technologies, and research on how people work, play and communicate. Part of the School of Computer Science, the HCII hires faculty and trains students at the intersections of computer science, design, cognitive science, social psychology and other areas across the disciplines, which accounts for the HCII's world-class reputation for interdisciplinarity.
Carnegie Mellon faculty have been leaders in human-computer interaction since the late 1960s and continue to be among the most influential researchers in the field. The HCII was the first to offer a Ph.D. program in human-computer interaction.
      
###