September 28, 2012
Press Release: Carnegie Mellon's Erye Hernandez To Receive Prestigious Fellowship For Study in Information Technology and Security
CMU's Information Networking Institute and Alta Associates Award Innovative Excellence
Contact:
Chriss Swaney / 412-268-5776 /
swaney@andrew.cmu.edu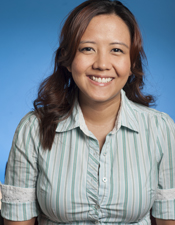 PITTSBURGH-Carnegie Mellon University's Information Networking Institute (INI) and Alta Associates' Executive Women's Forum (EWF) on Information Security, Risk Management and Privacy have awarded CMU student Erye Hernandez with a fellowship to pursue her master's degree in Information Security Technology and Management.
"I'm extremely excited about this award because it gives me an opportunity to build proficiency throughout a broad range of security arenas and issues," said Hernandez, an INI graduate student from Sterling, Va. "The fellowship also gives me a chance to network with some of the world's leading security professionals within the EWF."
EWF (www.ewf-usa.com) is a prominent community of more than 750 of the nation's most influential female executives within the information security, privacy and risk management industries. The EWF community is a home base for women to grow their professional skills, build important networks and gather industry business intelligence. Dialog that begins at the national conference continues throughout the year during regional meetings, meet and greet events, peer mentoring, outreach and scholarship programs, and individual thriving networks. The EWF National Conference is hosted by Alta Associates Inc., a national recruiting firm specializing in placement of top-tier executives in information security. IT risk management and privacy.
"The EWF is proud to provide scholarships that will foster the next generation of thought leaders. Our continuing program with the INI is one of the most rewarding contributions in our toolkit of expanding goals to help women succeed in a global marketplace," said Joyce Brocaglia, EWF founder and CEO of Alta Associates.
Dena Haritos Tsamitis, director of the INI and director of education, training and outreach for Carnegie Mellon CyLab, one of the largest university-based research centers for cybersecurity studies in the U.S., praised the fellowship program for connecting bright scholars to career challenges, mentorship and opportunities to network and be inspired by strong female role models in the field. "The nation has a critical need for talent and leadership in information security and our ongoing work with EWF is a sound partnership that helps address that growing need."
The scholarship was first offered in the fall of 2007 to support a student from a historically underrepresented population. Awardees, known as EWF fellows, receive a full tuition scholarship and have the opportunity to be mentored by EWF members at senior levels in their careers.
INI's Hernandez will receive her scholarship award Oct. 2 at the 10th annual EWF National Conference at the Hyatt Regency in Scottsdale, Ariz. She joins an elite class of ambitious INI scholarship winners, including Dolly Karaba, the 2011 INI-EWF fellowship winner who is beginning her second year of graduate studies in information security; Amy Rambhia, (INI'08) a program manager at Microsoft Corp.; Tyelisa Shields, (INI'10) a system qualification engineer at Hewlett-Packard and Krystal Ying, (INI'11) a software engineer at Lexmark.
###