September 26, 2012
Press Release: Carnegie Mellon's Metin Sitti Receives Critical Funding For Novel Medical Robotics Research
Contact:
Chriss Swaney / 412-268-5776 /
swaney@andrew.cmu.edu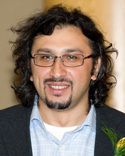 PITTSBURGH-Carnegie Mellon University's Metin Sitti was one of six researchers nationwide to receive funding to develop robots that can interact and work cooperatively with people in a variety of healthcare environments.
Sitti, a professor in mechanical engineering and head of the CMU Nanorobotics Lab, will receive a total of $787,000 for three years from the National Institutes of Health (NIH) and a CMU matching grant.
"We are developing miniature robot pills that will help doctors diagnose and treat disease and be able to respond quickly to a variety of changing environments," Sitti said. "This technology will be designed to help physicians better track disease and make remedies more accessible and affordable for a variety of maladies."
While pill-sized capsule endoscopes are increasingly used as wireless imaging devices for diagnosing disease in the human digestive tract, the technology is limited to sensing applications.
CMU's Sitti aims to address these limitations by designing and manufacturing new pill-sized soft capsule robots that can be controlled remotely to enable critical diagnostic and therapeutic functions for the gastrointestinal tract.
"Our work will ultimately translate into more successful surgeries and better and faster diagnose and recovery for patients," said Sitti, the 2011 recipient of the Nanoengineering Award from SPIE, the international society for optics and photonics, for his work on devices that can manipulate objects on a molecular level.
The five other researchers tapped for the NIH funding will work on projects to help engineers better design prosthetic legs for amputees and create microrobots that help researchers make artificial tissues.
"Robots that can readily adapt to new situations are critical for helping support activities that consumers do daily," said Vijayakumar Bhagavatula, interim dean for CMU's College of Engineering. "We are extremely proud of Professor Sitti's ongoing innovative research and his collaborative, problem-solving solutions to some very challenging science and health issues."
###