September 21, 2012
Photo Advisory: Carnegie Mellon To Break Ground for Sherman and Joyce Bowie Scott Hall
Contact:
Ken Walters / 412-268-1151 /
walters1@andrew.cmu.edu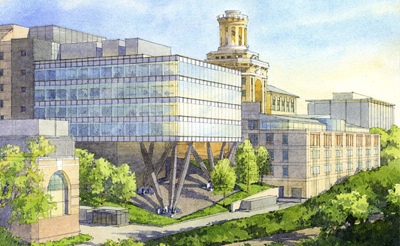 Event:
Carnegie Mellon University will break ground for Sherman and Joyce Bowie Scott Hall, which will house the recently announced
Wilton E. Scott Institute for Energy Innovation
, a major research and education initiative focused on improving energy efficiency and developing new, clean, affordable and sustainable energy sources. The institute is named after Sherman Scott's father, Wilton. The building also will house CMU's Biomedical Engineering Department and a nanotechnology fabrication lab.
Created through a lead gift from CMU alumni Sherman Scott (E'66), president and founder of Delmar Systems, and his wife Joyce Bowie Scott (A'65), the institute will develop new innovative energy technologies and create an improved understanding of how to promote their wide adoption through better regulation and public policy.
In addition to the Scotts, CMU has received support for Scott Hall from CMU alumni John Bertucci (E'63, TPR'65) and his wife, Claire Ruge Bertucci (MM'65); CMU alumnus Jonathan Rothberg (E'85) and his wife, Bonnie Gould Rothberg; and the Eden Hall Foundation.
Who:
CMU President Jared L. Cohon, CMU Provost and Executive Vice President Mark Kamlet, CMU Board of Trustees Chairman Ray Lane, City of Pittsburgh Mayor Luke Ravenstahl and U.S. Department of Energy Assistant Secretary for Fossil Energy Charles McConnell, among others, will join the Scotts and the Bertuccis in the groundbreaking ceremony.
Where:
CMU's Pittsburgh campus, near Hamerschlag, Wean and Roberts Engineering halls.
When:
1:45 p.m., Saturday, Sept. 22      
Directions:
Media should park on Frew Street near Scaife Hall. (Please do not park in the Scaife parking lot.) The ceremony site is a short walk through the parking lot.
Contact:
Ken Walters, 412-268-1151, 412-480-4396 (cell),
walters1@andrew.cmu.edu
###