September 21, 2012
Press Release: Carnegie Mellon's Golan Levin Named One of 50 "Influential Designers Shaping the Future"
Contact:
Pam Wigley / 412-268-1047 /
pwigley@andrew.cmu.edu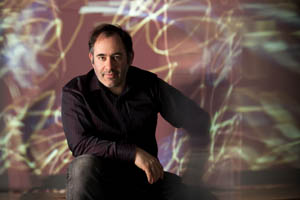 PITTSBURGH-Fast Company magazine has named Golan Levin, director of the
Frank-Ratchye STUDIO for Creative Inquiry
and associate professor of electronic art at Carnegie Mellon University, one of the "50 most influential designers shaping the future." The list is featured in the magazine's October issue, currently on newsstands and online at
www.fastcodesign.com
.
In the article announcing the 50 innovators, editors said they "chose a group of people who are pushing the boundaries of their discipline into promising new directions." They went on to call the group "masterful collaborators ... what unites all of them is that their projects will affect not only how we live today but also what life might look like just a few years down the line."
Levin said he was not aware he had been nominated but called the inclusion on the list "a pleasant surprise." He said he is dedicated to helping students, colleagues and visiting fellows see the possibilities inherent in developing provocative work that explores more than one area of study - particularly, the arts and technology. Innovative projects that push the limits of creativity and cross disciplines of study at Carnegie Mellon have been a hallmark of the STUDIO, where Levin has been director since 2009.
His expertise and reputation as an innovator also resulted in Levin being invited to the World Economic Forum "Annual Meeting of New Champions" last week (Sept. 11-13) in Tianjin, China. There, he gave presentations titled "Smart Art" and "Radically local: Personal fabrication and future economies." In September, Levin received the Award of Distinction in the category of Hybrid Art at the prestigious 2012 Prix Ars Electronica for his work on The Free Universal Construction Kit, a set of adapters for complete interoperability between 10 popular construction toys.
###
Pictured above is Golan Levin, director of the Frank-Ratchye STUDIO for Creative Inquiry and associate professor of electronic art