September 20, 2012
Press Release: Carnegie Mellon's Master of Arts Management Program To Kick Off Yearlong 25th Anniversary Celebration
Celebration Begins Oct. 6 With Symposium on Arts Management and Innovation
Contact:
Pam Wigley / 412-268-1074 /
pwigley@andrew.cmu.edu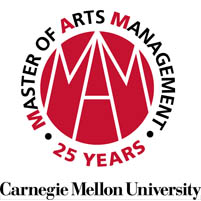 PITTSBURGH-Carnegie Mellon University's
Master of Arts Management
(MAM) Program will kick off a yearlong 25th anniversary celebration Saturday, Oct. 6, with the inaugural Symposium on Arts Management and Innovation.
The one-day event, during the university's annual Cèilidh Homecoming Weekend, will feature keynote speaker Doug McLennan, founder and editor of ArtsJournal, the leading arts news aggregator on the Internet and home to more than 60 prominent arts bloggers. McLennan is a journalist, critic and consultant, and a frequent speaker and writer about arts, culture and technology.  The symposium also will include a series of interactive lectures and workshops led by 12 innovative local and national MAM alumni.
"We are thrilled to celebrate 25 years of cultivating innovative arts managers by showcasing the groundbreaking work of our alumni in this inaugural symposium," said Kathryn Heidemann, MAM program director. "Additionally, a keynote presentation by ArtsJournal's esteemed editor Doug McLennan will offer the community a thoughtful glimpse into audience engagement and innovation in the arts."
Symposium topics will examine the ways that innovative arts management techniques improve the cultural landscape for artists, performers, communities and audiences. Registration is free for all Carnegie Mellon students, staff and faculty, and $10 for all other attendees. Online registration is required at
http://hnz.cm/mam-25
. Deadline for registration is Oct. 1.
Alumni presenters at the symposium are: Brad Carlin, managing director, Fusebox Festival; Jeb Feldman, owner, Unsmoke Artspace and deputy mayor of Braddock, Pa.; Cara Weiser Posey, chief marketing officer, Speakerfile; Patrick Donnelly, director of theater operations, Kauffman Center for the Performing Arts; Andre Bouchard, senior associate, Technology in the Arts; Samantha Pollack, director of programming, Washington Performing Arts Society; Jocelyn Malik, major gifts officer, CMU; Melinda Hungerman Johnson, assistant director of major gifts, CMU; Stefanie Mathew, director of development, Foundation for the National Archives; Brenda Lee Johnston, executive director, Schauer Arts & Activities Center; Elliott Mower, assistant director of external affairs, Pittsburgh Public Theater; and Thomas Hughes, marketing and special events associate, Attack Theatre.  
Offered through a joint partnership between CMU's
H. John Heinz III College
's
School of Public Policy & Management
and its
College of Fine Arts
, the Master of Arts Management (MAM) Program is designed to create innovative leaders in the visual and performing arts. The program combines rigorous finance, marketing, technology and fundraising coursework with practical experience to prepare graduates to excel in public, private or nonprofit arts environments. The MAM program also is host to two innovative initiatives, including Future Tenant, a downtown Pittsburgh gallery and performance space, and Technology in the Arts, a nationally recognized research center.  
The MAM program boasts more than 600 graduates who work for some of the most prestigious arts institutions in the United States and beyond, including The Guggenheim Museum, Kennedy Center for the Performing Arts, Carnegie Museum of Art, The Metropolitan Opera, The Smithsonian, The National Endowment for the Arts, Edinburgh Festival (UK) and Mori Art Museum (Japan). With a rigorous management degree that transcends all disciplines, many MAM alumni also have enjoyed successful roles at organizations such as Google, eBay and Amazon, among others.
For more information, contact MAM program coordinator Michael Cunningham at 412-268-6706 or
mcunningham@cmu.edu
.
###